Memorial to Frank DeMarco
March 2, 1939 to October 21, 2018
A memorial service for the late Frank DeMarco was held on Sunday, November 11, 2018 at 12 noon, at the Most Precious Blood Church, located at 113 Baxter Street (between Canal and Hester Streets) in lower Manhattan. 212-226-6427. After the service, Frank DeMarco's friends and family went to Frank's old bar Puffy's, located in Tribeca at 81 Hudson Street which is at the corner of Hudson and Harrison Streets. The memorial service and after memorial at Puffy's was well attended by many of Frank's old friends and patrons.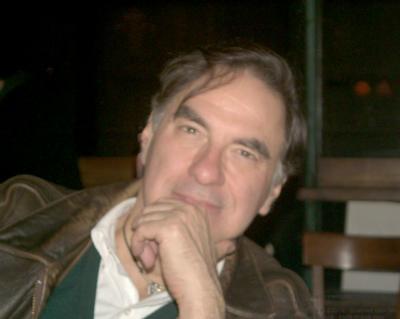 Francis Eugene DeMarco, was born on March 2, 1939 and passed away on Sunday, October 21, 2018. Without warning, Frank took ill Sunday morning and was rushed to the hospital, where he passed away. It is believed that the cause of death was heart failure. Frank, who was in the U.S. Marine's in the early 1960's was also one of the founders and driving force behind the very popular bar/night spot Puffy's Tavern in Tribeca, which he started in 1977. Frank was a also a world traveler, having traveled to most countries in Europe, Asia and the America's. He was interested in local cultures from around the world. Frank was also a avid historian, with a collection of antiquarian books, interested in avent garde film and was deeply interested in world affairs and political analysis. He was a very interesting person to talk with and had broad knowledge on many topics. Frank was a native New Yorker, born in 1939 and lived in Tribeca for over 40 years. Frank leave's behind his loving wife Sally as well as his sister Ann and many relatives and friends. Frank DeMarco will be missed by all who knew him. His daily political emails will also be sorely missed.
To enlarge, click any photograph. Use the return key to return to this menu.

| | |
| --- | --- |
| Frank DeMarco around 2010 | |
| | Frank DeMarco with friends around 2010 |
| | |
| | |
| | |
| --- | --- |
| Frank and Sally's wedding in 2010. | |
| | |
| | |
| | |
| --- | --- |
| Frank DeMarco around 2003 at the air museum in Floyd Bennet Field in Brooklyn. | |
| | |
| --- | --- |
| Frank DeMarco at his father's funeral after dinner in 2003 | |
| | |
| | |
| | |
| | |
| | |
| Frank DeMarco with on of the patrons's at a party in Christo the artist home on West 12 Street in the meat packing district. | |
| | |
| | |
| | |
| | |
| Puffy's Tavern Christmas time around 1996. | |
| | |
| Christmas time, Frank DeMarco always had a Christmas Tree hanging from the ceiling in Puffy's. By having it hanging, it would not be knocked over and further, would not take up floor space. | |
| From the 1970's till the late 1990's, Puffy's was a well known artist hangout as well as a place for intellectuals to go and NOT be seen. JFK Jr., Marrosol (the scupturer who created the maritime memorial downtown as well as memorials in Washington DC as well as other works) and other's, were frequent customers. | |
| | Puffy's Juke Box was well known and voted by the Village Voice newspaper (also deceased), as the best Juke Box in New York City. |
| | If you brought a Christmas Tree ornament, you would be given a free drink. Puffy's would also give out the very best spiked eggnog! Attorney Howard Simms, who sadly passed away several years ago, is wearing the red shirt, sitting down. |
| Frank and patron Ruth | |
| | |
| Andy and Howard | |
| | Frank DeMarco in front of Puffy's Tavern in the early 1990's. |
| | Frank DeMarco talking to Puffy's customer in late 1990's. |
| | |
| Frank DeMarco sitting , 4th from left, around 1988. | |
| | |
| | |
| | |
| Frank DeMarco joking with some of the lady's in front of Puffy's around 1988. The book he is reading is called something like "How to Meet Women"!!! | |
| Puffy's around 1990 | Snowing one cold night in front of Puffy's. 1991. |
| | |
| | |
| | |
| | |
| | |
| | |
| I was experimenting with 3D. The following photo's can be viewed in 3D by using the technique shown above. From around 2003 or earlier. | |
| | Around 1996. |