How to buy a photograph
This photographic archive is designed primarily for the news media and advertising agencies, though many people purchase photographs for a wide variety of reasons. News and advertising agencies who purchase photographs on a regular basis, may qualify to obtain more favorable prices. We always try to work within your budget. All photographs are LICENSED for a one time, non-exclusive use. We do not allow our photographs to be used on websites, without our express written (on paper) permission. All photographic users agree to be bound by our Terms and Conditions of usage.
The price to use a photograph depends on the size of the printed image and the final usage of the image. To order, you may click on the pre-set license payment links to the left. In the new menu that appears, please indicate the serial number of the photograph that you wish to purchase (for example JP_03723) and a brief description of the photograph (for example "a house next to a pond"). If possible, please also indicate where on the website, that you found the photograph (for example: the section on Kyoto).
Many people prefer to buy with their credit card using PayPal. Our PayPal email billing address is photo@didik.com
Click Here to buy using PayPal for USA Orders (total price including postage will be $46.90)
Click Here to buy using PayPal for international orders from Canada, Mexico, South America, Asia, Africa, Australia, Europe, and New Zealand (total price including postage will be $67.95)
Click Here if you are in Canada and Mexico and wish to order using PayPal. The total price, including postage to Canada and Mexico using PayPal is $48.95 . Orders to Canada and Mexico are sent by U.S. Global Priority Mail. Besides the pre-set payment links, you may now also pay by PayPal. PayPal, which is now owned by Ebay, has emerged as a major on-line payment processing company. Our paypal email address is photo@didik.com . To pay, please
.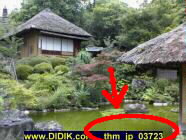 When ordering a photograph, please include the serial number, a discription of the image and where you saw the photo on this website.
By purchasing a license to use a photograph, you agree that you have read the Terms and General Publication Prices and you agree to be bound by the terms and conditions of license.
Click here to pay for a 1/4 page, $275 license
Click here to pay for a 1/2 page, $425 license
Click here to pay for a 3/4 page, $650 license
Click here to pay for a full page, $795 license
Personal License for NON-Commercial, non-published applications.
8"x10" $99
11"x14" $129