Didik Long Ranger
Hybrid Electric Vehicle
---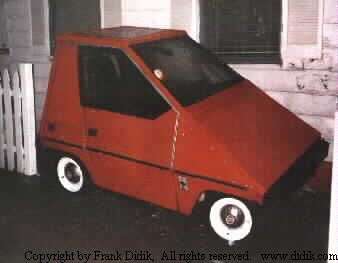 DIDIK LONG RANGER (tm) The Didik Long Ranger is a hybrid gasoline/electric powered vehicle based on the former CitiCar/Commutacar of the 1970's updated and capable of carrying 3 adults at speeds of up to 53 miles per hour. The vehicle also incorporates solar panels to assist in charging and maintaining the special batteries as well as increasing the effective range. The Didik Long Ranger has a TRUE range of up to 70 miles per charge or 100 miles per day. In the event that the driver travels beyond this range, the built in gasoline engine can be used in an emergency to propel the Long Ranger at slower speeds of up to 30 miles per hour, for an indefinite range. The Didik Long Ranger incorporates updated structural and design technologies. The Didik Long Ranger is constructed of welded aluminum tubing and is built to aircraft standards. The vehicle is 8 feet (96") long, 5.5 feet (54") wide, 4.8' high and weighs approximately 2100 lbs. The Didik Long Ranger can comfortably accommodate 3 people, is reliable and easy to maintain and has excellent "sports car" handling owing to its particularly low center of gravity, primarily due to its substantial battery weight. The innovative Didik Long Ranger is a highly modified version of the Citicar/Commutacars of the 1970's. It was redesigned and modified by Frank Didik who has built a large number of electric powered vehicles, aircraft and racing vehicles over the past 17 years.

A limited number of UN-MODIFIED CITICARS are available for sale
starting at $2200.   Please contact us by e-mail for addition 
information.

Didik, Didikmobile, Muscle Car, Long Ranger are registered trademarks of Frank Didik. Various USA and foreign patents approved or pending.
DIDIK doit voir des liens alternatifs de véhicule d'énergie
MENU PRINCIPAL de DIDIK pour les VÉHICULES ALTERNATIFS
Comment des véhicules de DIDIK sont conçus
Voiture De Muscle De Didik
Voiture Pliable De Muscle De Didik
Étoile De Tir De Didik
Arctique Exporer De Didik
Long Garde De Didik
Bus Actionné Humain De Didik
Aéroglisseur De Didik
L'information d' autorisation pour des constructeurs et des revendeurs
DOSSIERS DE PRESSE
Disque compact-ROM Électrique De Véhicule
Club Électrique De Propriétaires De Voiture
Recherche en matière d'énergie Solaire
Didik Sun Shark - (ONLY IN ENGLISH) Safety Motorcycle
How Build an Electric Car (ENGLISH Smithsonian Institute Talk)
History of Electric Vehicles from 1834 to 1987 (ENGLISH)
---
Le site Web de DIDIK est mis à jour avec la nouvelle information au moins une fois par mois. Pour la dernière information, veuillez être sûr de visiter encore. Nous faisons bon accueil à tous les commentaires. Vous pouvez nous atteindre par CÉ à: inquiry@didik.com
---