Didik.com
A nine day adventure on the Hudson River
By Frank X. Didik, August 28-September 5, 2010
Key points and adventures: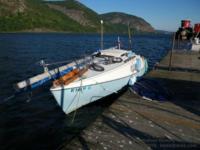 Please scroll down to see various captioned photographs.
Day 1, Saturday, August 28, 2010
I left home at 4:30AM in Downtown Brooklyn/Dumbo and rode my micro bicycle in the dark, about 1 mile to where I keep the boat. After making final preparations, I left the dock at 5:30am. The morning glow was just starting and the entire New York Harbor still had very little activity. The sun made its first appearance as I passed the Statue of liberty and continued up the Hudson River passing Battery Park City, Tribeca, and all of Manhattan's west side. The only people that I could see on shore were a few joggers and people walking their dogs. I reached upper Manhattan and the sun was now shining with its full intensity and I traveled under the George Washington Bridge. It is amazing that as soon as I passed the bridge, both sides of the Hudson River looked pristine and rural. It was a beautiful day. I continued at a leisurely pace up the Hudson though as I approached the Tappan Zee Bridge, I endured rather choppy water. After passing the bridge, the water was even rougher. This area is the widest part of Hudson River and as such, it allows the wind to build up wave action. After a few hours, I went across Havastraw Bay and decided to stop at Ossining Harbor Park near the town of Croton on the Hudson, since it had been recommended to me by the editor of the magazine "Boating on the Hudson". When I arrived, there were many pleasure boats anchored in the shallow water off the beach. Sailboats tend to require deeper water than power boats, however my sailboat has "slip" or movable keel so that by raising the keel, I am able to float in water as shallow as 1 foot (35cm). I anchored and being exhausted from waking up so early, I slept from 2:30pm till 6pm. Then, on recommendation of another boater, I crossed river (which is about 7 miles/12km wide at this point) and spent night at Patsy's Marina. After docking, I walked to the Chelsea marina, which had a restaurant, and ate beer battered fish and chips and clam chowder soup. The view from the restaurant was very nice. The atmosphere among yacht owners was pleasant and in fact, very enjoyable. I also noticed an interesting phenomena. Because I had been on the boat so long, everything seemed to be swaying, even though I was on dry solid ground,. Apparently, from what one boater told me, this is a common effect and that after an extended boat journey, ones equilibrium is effected for a few days.
To enlarge, click on any photograph below. Use the return key on your browser to return to this menu

Adventure on the
Hudson River

August 28 - Sept 5, 2010


By Frank X. Didik


A little after 5:30am, leaving my protected anchorage in NYC, right next to New York Harbor.

Let the adventure begin!


About 6:15am with the Statue of Liberty and the Staten Island ferry.


The Brooklyn and Manhattan Bridges about 5 miles away.


A huge Carnival Cruise line ship entering New York Harbor.


The George Washington Bridge which links upper Manhattan with New Jersey.


North of the George Washington Bridge, looking south, with the New York skyline in the distance.


New Jersey on the left and Westchester County, New York, on the Right.

The water, just after and before the Tappan Zee Bridge is known to be very choppy, even in good weather. Sailors like this since it offers excellent sailing conditions. At this point, the river is about 7miles/12km wide.


The man is swimming but his small pet dog is on a foam raft!


Ossining Park Beach
Though the photograph does not show it, the river is also about 7 miles/12km wide in this area.


Many pleasure boats anchor at Ossining Bay, known for its sandy beaches and calm water.
My boat can be seen anchored in the middle of the enlarged photo.


Restaurant at the Chelsea Yacht Club at Sandy Point, New York.


At a boat gas station on Havastraw Bay
Day 2, Sunday, August 29, 2010
I waited for the tide to be more favorable and then left the marina at about 10:30am and cruised past the stunning hills and cliffs around West Point, Cold Spring and on to the Newburg / Beacon area where I anchored off shore, about 5 miles north of Beacon, and rowed to shore with my micro bicycle on raft. Peddled about 3 miles to nearest store. I had a conversation with the store owner and after I explained what I was doing, he insisted on driving me back to my boat. He had just purchased a new turbo-charged Range Rover and I think that he also wanted to show me his car, accelerating as fast has he could on the open hilly roads. He seemed a little surprised when he saw my boat anchored in the bay and me climbing with the bike, into the life raft! The sunset from the boat was very beautiful and the colors of the sky were spectacular. Interestingly, I also saw fish jumping out of the water trying to catch insects and I was serenaded that evening my a multitude of singing creatures, including frogs, crickets and nightingales.
To enlarge, click on any photograph below. Use the return key on your browser to return to this menu

| | | | |
| --- | --- | --- | --- |
| Bear Mountain Bridge near West Point. | | For a period of time, the shoreline did not seem very interesting, but then upon further inspection, I realized that the local people did many interesting things. Here we see a simple house...and a seaplane! Imagine leaving home, walking a few feet and then being able to take your airplane to almost any destination! Such freedom! | West Point. |
| | | Cold Spring. Coming back I stopped here and had an interesting adventure. | |
| | The sun was intense and very shortly, even with a strong suntan lotion, I realized that I was getting sunburned. Prior to leaving, I built a mosquito and fly net for the boat, and decided to modify it by tying a sheet on top to protect me from the sunlight. Someone commented that my boat looked like the boat in the 1950's movie with Humphry Bogart and Katharine Hepburn, the "Africa Queen"! | | I anchored my boat, in a protected area, about 5 miles north of Beacon New York and rowed to shore on the inflatable "life raft" with the micro bike. I then tied the raft to a tree, and walked to the nearest road and then peddled about 3 miles to the nearest store. |
| The boat anchored. | | | The Sunset was just beautiful. So pleasant. |
Day 3, Monday, August 30, 2010
The next morning I woke up to find that the Hudson River was covered in morning mist, which quickly disappeared as the sun rose. I went for a morning swim in the warm Hudson river (over 70F) and then continued my journey up the river passing more beautiful scenery and eventually I stopped at Rogers Point to buy gas and talk to the other Yacht owners. I was so impressed by the charming view from the Rogers Point building and enjoyed speaking with one boat owner who had traveled around the world. After an hour or so, I continued up the River, but since it was getting dark and the tide was beginning to change, I decided to anchor somewhere for the evening. I chose a very nice bay that had one other yacht, attached to a mooring (permanent anchor). The bay itself was relatively shallow, being about 10feet/3 meters, however just beyond the bay, the river is about 70feet/22meters (7 stories!) deep. I cooked dinner on board and then about 4 hours later, I fell asleep. Then...DANGER! .... see next day/morning below....
To enlarge, click on any photograph below. Use the return key on your browser to return to this menu

| | | | |
| --- | --- | --- | --- |
| | The inside of the cabin is small but very cozy and comfortable. The boat is very well equipped and in critical areas, has backups, such as 2 electric power sources, two motors, extra food, water, fuel, radios and tools. | The next morning, the Hudson River was covered with mist, which quickly disappeared as the sun rose. | The water temperature was surprisingly warm, being 73F/24.5C. I jumped in for a quick morning swim. |
| Hudson river grass can grow up to 9 feet in length. It is predatorial in that it floats to the surface and then clings to boats, driftwood and engines and is spread that way. | | Everything was perfect, except in some ways, it reminded me of the movie "My Cousin Vinnie". Every 20 minutes, all night long, a train would go by, on both sides of the wide river, and blow its horn! These particular train cars are interesting since some conspiracy websites claimed that these cars were being prepared by the government in order to transport Americans to alleged internment camps!!! Crazy! Actually these trains are designed to transport new automobiles and have been around for years and years. You can buy models of them at model railroad stores! | |
| You can see my homemade sun and mosquito net. I did not bring the well made inflatable boat, but instead a simple inflatable, since I felt that I should have some sort of life raft, but I did not want to haul the heavy professional inflatable. | In the end, I realized that the light weight inflatable boat fit perfectly on top of the sun net. | This is the Rogers Point Boat Gas Station. It had a beautiful view from the veranda and I really enjoyed the interesting people who were there. Time only permitted me to spend one hour here, however. | |
| I am beginning to look like a cooked lobster. | | This is the mooring that I grabbed on to after a two hour ordeal after my anchor came lose. The next morning the owner of the mooring came by in a row boat and demanded a $30 fee, which I promptly paid. | The tide and river conditions changes dramatically throughout the day. Here, early in the morning, the river is very calm, yet just 3 hours before, the river was flowing at about 3 to 4 MPH up stream. Six hours later, the river was flowing 3-4 miles per hour in the opposite direction. In boating, the tides are very important. |
Day 4, Tuesday, August 31, 2010
....continued...DANGER!: Around 4 hours later, at about 3AM, I woke up to discover that I was no longer in the bay, but rather somehow, my boat had pulled the anchor and I was now in the very deep water drifting with the tide at a high speed. I felt that any second I could crash onto the rocks or perhaps be hit by a passing ship. Even worse, because of the mist, I could hardly see any lights and had only minimum moon light. My old Russian nightscope did not help very much. I started the motor and tried to determine where I was. Gradually I did see lights, here and there and determined that I had drifted about 1 mile up river. In front of me was Esopus Island and its very rocky shoreline, which I estimate that had I not woken up when I did, I would have probably hit within 30 minutes. Shocking. I then tried to find a place to anchor or dock but because of the depth and speed of the water, I could not locate a place. I turned around and went into the tide that was moving around 4 miles per hour into me and gradually went down the Hudson. I felt that going in the direction of the tide in the dark, was too dangerous, because of the numerous rocks and submerged obstacles. About 1.5 hours later, I noticed an unused boat mooring towards the shore and quickly sailed to it and grabbed it with my boat hook. The tide was so strong that it was very difficult to tie up to it. Eventually I did and after I was convinced that it was strong enough...I went back to sleep, with the water speeding by me! About 3 hours later I heard knocking on the boat, opened the hatch and discovered that the mooring owner had come out to greet me in a row boat and demanded payment for the use of his mooring ball. I paid him $30 for the few hours of use and then left, proceeding on my journey north on the Hudson. It is interesting to note that the location of the mooring ball was Hyde Park /Vanderbilt, which was the home town of depression and wartime President Franklin D. Roosevelt. His presidential library is located there.
I was extremely tired by I continued cruising up the river, passing light houses, beautiful homes and eventually, at about 3PM, I arrived at Kingston, NY in the Rondout district and decided to stay for the evening. As I pulled into the marina, an attractive girl, who was working at the marina, ran out to the dock and told me to throw my rope to her and then she tied my boat to the dock. She gave me an excellent spot that was formerly used by the local Police department harbor patrol. The Kingston Town Marina is great since it is in the center of the restaurant and museum area of the Rondout district. I enjoyed this location very much.
To enlarge, click on any photograph below. Use the return key on your browser to return to this menu

| | | | |
| --- | --- | --- | --- |
| This is the emergency mooring that I found in the middle of the night. The ball is attached to a chain and the chain goes down to the bottom of the river where there is a very heavy weight/anchor, weighing perhaps 500lbs/200kg. | | Many luxurious homes and mansions can be seen from the Hudson River. | Some of the mid-century / John Lautner type homes were particularly to my liking. This house is built upon a rock with floor to ceiling glass windows. |
| | | | A light house. |
| | | Another light house. This light house protects the entrance to Rondout Creek at Kingston, NY | Kingston New York |
| | Kingston Boat Museum | Kingston Marina | I really enjoyed Kingston. Friendly people, nice restaurants, an extensive colonial district, good shopping and even electronic parts stores for myself. Kingston was the first NY State Capital and was once a major inland harbor. It still has ship yards, though its high point was probably in 1900. |
Day 5, Wednesday September 1 , 2010
I waited for the tide to change and then left Kingston around 11:30AM, destined for Athens. I reached Athens, just as the sun was setting. An advertisement in Boating on the Hudson stated that the town was a charming, historic town with antique stores. As it turned out, Athens is ok, but it is not as charming as I had expected. It is a rather sleepy little town. The waterfront itself is not extensive, though it does have a few nice places. It is across the Hudson river from Hudson, NY, which is also interesting. I had an excellent dinner at the Athens Hotel restaurant and stayed there till about 11pm and then went back to the boat and slept. It was so peaceful.
To enlarge, click on any photograph below. Use the return key on your browser to return to this menu

| | | | |
| --- | --- | --- | --- |
| I particularly enjoyed docking in Kingston since the immediate shoreline had many nice restaurants, museums and shops. | | | |
| Remnants of Kingston's glory days from 100 years ago. | Kingston Lighthouse. | | Hudson River Grass |
| | | | As you can see, the Hudson river is very wide and at times, looks like a small ocean. |
| | This red buoy protects boats from sailing into dangerous waters. In this case, the water is very shallow, being only 4' deep at low tide. Further, there are many obstructions, such as rocks and sunken boats that can cause damage if hit. | A beautiful home on the hill | Between Kingston and Athens, there are many small temporary shelters. These are used by "sportsmen" to shoot small birds and animals from. |
| | The Rip Van Winkle Bridge at Catskill, NY | The Athens / Hudson New York light house. This lighthouse looked very beautiful at night, when it was lit up. | Athens, NY |
| My boat tied to the Athens Hotel dock at Dings Marine. | | | This is actually an out door, waterfront bar. Though it was not crowded, I can imagine this location in a party setting. |
| Athens is a very peaceful village. | A view from the waterfront bar with my boat in the distance. | | |
| Sunset in Athens....New York. | At the Athens Hotel and Restaurant, in Athens New York. | The hotel was started in 1873. | |
| The food was delicious. I ordered sole(fish) stuffed with crab, sweet potato fries and vegetables. | | The restaurant had one of the most beautiful tin ceilings that I have ever seen. | Sun rise, September 2, in Athens New York. |
Day 6, Thursday, September 2 , 2010
I woke up in Athens about 6:30am to one of the most peaceful mornings that you can imagine. The birds, the glassy smooth Hudson, the morning mist and the country aroma was wonderful. I walked a few blocks to Stewart's (which is a general store-gas station chain that has a very good reputation for treating its customers and employees fairly) and bought breakfast and gasoline ($2.66/Gallon) and left Athens around 7:30am, headed back to Kingston. The journey was wonderful and in fact, I was the only boat on the river for over an hour. At one point, about 10 miles south of Athens, I anchored next to a small island in the middle of the Hudson and relaxed, enjoying the beautiful surroundings. During the 45 minutes that I was there, I did not see a single boat on the Hudson. The only sign of human activity was the railroad train that I could hear in the distance, every 15 minutes or so.
After, I continued my journey south. Though the Hudson River is about one mile/1.6km wide at this point, the actual area in which a boat can safely travel is only about 300feet/100meters wide. The problem is that most of the Hudson in that area has obstacles, such as submerged rocks, remnants of boats that sunk long ago and other issues, such as sand bars. The scenery here, as is the case throughout the Hudson valley, is very beautiful. Much nature. Ducks, geese, raccoons, and turtles are everywhere. There are so many large fish. Every 30 seconds or so, I would see a fish jumping out of the water, apparently trying to catch bugs on the surface. I proceeded with my journey south without incident to the Kingston Town Marina. In Kingston, I used my micro folding bicycle and traveled around the town and went shopping. I came upon the colonial district of Kingston, including the first NY State senate building and an interesting restaurant called the Hoffman House from ca1703 or the 1680's, depending on whom you speak to. After, I returned to the boat at about 5pm and slept to around 8pm. Soon after, a lovely singer and her group, started to sing on shore, a combination of Brazil66 and early Cole Porter tunes. The setting was just perfect. I woke up around 8pm, showered and went to a local restaurant.
To enlarge, click on any photograph below. Use the return key on your browser to return to this menu

| | | | |
| --- | --- | --- | --- |
| | | Early morning Athens New York | Leaving Athens |
| | | | |
| | There seems to be several varieties of Hudson River Grass. Though the grass looks similar to conventional lawn grass, the grass has sharp hooks that enable it to cling to floating debris and thus travel. | At one point, for a few minutes, I was swimming in the grass and when I returned to the boat, I discovered that I had many small cuts caused by the sharp hooks on the grass. | Fish are everywhere and seem to enjoy swimming in the grassy areas. |
| Hunting shack. | From Athens to Kingston. | Kingston Marina, located in the center of the Rondout district of Kingston. I brought a micro bicycle with me that folds into a small case. The bike proved very useful in that I was able to travel well beyond the boat on shore. I have taken this bike with me to Asia and Europe and it has always been a very useful item. | Hoffman restaurant in Kingston dating to the early 1700's. |
| As the trip progressed, the cabin became messier and messier. The waves and boat rocking added to the general mess. | Nevertheless, the cabin continued to feel cozy and comfortable. | | |
Day 7, Friday, September 3 , 2010

Left Kingston at about 11:30AM, so that I could catch the tide flowing south. My destination was Cold Spring, but because of the distance and the time factor, I was not sure that I could reach Cold Spring before dark and I did not want to be boating in the dark because of the very limited visibility and the danger from rocks and other obstacles on the river.
To enlarge, click on any photograph below. Use the return key on your browser to return to this menu

| | | | |
| --- | --- | --- | --- |
| From Kingston with a hoped destination of Cold Spring. I was not sure that I would reach Cold Spring before dark, and with the weather and rain, I started to consider alternative places. | One of the many beautiful homes along the Hudson. | Hudson River Grass accumulates everywhere, even on moorings and buoys. | |
| | The Newburgh-Beacon Rail Road Bridge | The Newburgh-Beacon automobile Bridge. | In the Newburgh-Beacon area. |
| | | | |
| Raining on the Hudson. | This is an old armory, on an island, in the middle of the Hudson. It has the look of being abandoned and I would guess that it is at least 150 years old, and probably much older. | | The Hudson River can be very wide. Most of the time I was between 1 and 3 miles (1.6-5km) from the shore |
| | | | About 20 minutes before it became dark, I arrived at the Cold Spring Yacht Club. |
| There were several signs on the dock that said "For Members Only", and I was somewhat concerned that they would not permit me to use their dock. As it turned out, the yachtsman were very friendly and in fact the first person I asked for permission to spend the night turned out to be from the towns sheriffs office who said that he did not see a problem. -- The true adventure at Cold Spring was to start 7 hours later at 2:10AM. | This is a riverside public gazebo/band stand. I must say that Cold Spring seemed to be a very civilized and livable town. Unlike NYC, they seemed to have rules that enhanced life rather than restrictions everywhere. | Cold Spring is an older town with many historic restaurants, such as this one, as well as antique stores and quaint shops. | It is serviced by the Metro North train line which travels from Cold Spring to Grand Central Station in New York in about 1 hour and 20 minutes. The round trip cost is $22 off peak time or a monthly pas for about $500, according to one person. |
| | | | |
My Cold Spring Drama: After an excellent sea food dinner, at a local restaurant, I went back to the boat to sleep at around 10:30pm. At 2am, the boat seemed to be rocking a little more than usual and I woke up and looked out of the hatch. I was surprised to see how fast the tide was moving, perhaps at 5 or 6 miles per hour, but I felt that I was well tied up to the floating dock and besides, I thought that this might be normal for this part of the river. I was exhausted so I went back to sleep. Ten minutes later, it hit. I felt and heard a powerful wind, which I was later was told had gusts of 65 to 70 miles per hour and the water was rushing at a very fast rate of speed and the surface was completely white with foam and fast moving waves. My floating dock was bouncing around and was completely wet and covered by a film of fast moving water. I felt that the situation was critical and I grabbed a shirt, a life preserver, shoes and my bag and with difficulty, got onto and walked along the floating, bouncing wet dock, concerned that with either a mis step or a slip, I might slide or be blown into the deep rough water. I quickly reached the shore, and as I did, the wind seemed to increase in intensity. Looking at my boat and the other boats being thrown around, I felt that there was a good chance that a few boats would sink. My boat kept hitting the dock and at times even sliding a bit on top of the floating dock and then sliding off. The immediate shoreline did not seem safe since small branches were falling off of the trees, so I walked about a block to an open area. There was no around and all of the stores and restaurants were closed, though it did not really matter since I doubt that there was anything that anyone could do to secure the boats. I put the life jacket on to keep warm and walked about 10 blocks to a 24 hour gas station where I had something warm to drink. After 20 minutes, I walked back to the yacht club and could see that the situation was still dangerous. About an hour and a half later, the wind was not as strong, but the situation was still not good. I found a protected area and went to sleep for a while. At 5:30 in the morning, with the first glow of the morning light, the wind died down and within a half an hour, the Hudson River was calm. At the same time, people started coming out to run, walk their dogs and so on. It was as if the storm never happened. I went onto my boat and discovered that my inflatable dingy, had been destroyed and that anything that was not secure on the deck, had been washed away. Also, two of my "boat bumpers" had been lost since as the ropes were cut where the boat had kept jumping on the floating dock. The side of my boat had extensive scratches, but none of this effected its sea worthiness. The inside of the boat was completely dry. The yacht club commandant came over and said that he had been aware of the storm and that he has seen similar storms in the past, in the area. When I evacuated the boat, the night before, I did not have very much time and sadly left my camera and other things on board. I tried to take photographs with my cell phone camera, but it was too dark.
| | | | |
| --- | --- | --- | --- |
| The evening, before the storm at about 8pm | If anyone would have seen me after I evacuated the boat, they would have wondered what was going on. I was completely soaked carrying binoculars, an ultra-wide spectrum radio, a Russian nightscope, and wearing a mid Atlantic, a self heating life preserver, but without ID! Photo taken the next morning. | The next morning. Imagine the floating dock covered with water, high winds and each plate of the dock, jumping up and down seemingly about to break free, about a block from shore. | The boat, minus my life raft, a few bumpers and a few minor items on the deck. The bicycle was chained to the deck, this it was not washed away. |
Day 8, Saturday, September 4 , 2010
After a night of intense wind and sleeping outside, the wind died down and by morning, the water was much calmer. Though I was exhausted, I decided that the tide and water was now in my favor and decided to continue my journey south, in the direction of New York City. At first, the going was just fine, but as expected, once I reached Havestraw bay, which is one of the wider parts of the Hudson River, the water became significantly rougher, with waves, from time to time, splashing me in the cockpit. I expected that the next part of the Hudson, that is the area around the Tappan Zee bridge was going to be even rougher. My expectations were not in vain... it was much rougher. The river here is about 7miles/12km wide. However, after I passed the Tappan Zee Bridge, I had expected the water to calm down but instead, it seemed to get rougher and rougher. Then, after I passed the wide area, to my surprise, the wind picked up and for the next 2 1/2 hours, I endured gusts of wind up to 35 miles per hour and constant waves pounding on the boat. I actually wanted to find a safe harbor to anchor or dock at, but there were none. The worse area was just north of Yonkers, New York and the pounding waves were terrible from there, all the way to Spuyten Duyvil in upper Manhattan, when suddenly, the water became much calmer. In the distance, I saw the boat gas station in Fort Lee and headed towards it, where I stopped briefly and fueled up and then cruised south, under the George Washington Bridge and since it was getting late and the wind was picking up again, I decided to spend the night in Edgewater, New Jersey at the municipal marina. It was just amazing how calm the water was there, when just a few miles north the waves and wind were so powerful. As I was tieing up at the dock, I could see a huge amount of smoke coming from one of the docks in Manhattan across the River. One follow yacht owner said that it reminded him of 9-11. As it turns out, it was an oil fire on a City owned dock. I used my micro bicycle and rode to the Japanese Mall Mitsua. Later a friend of mine visited me at the Marina and we drove in his car to a nice local restaurant. My trip was almost over.
To enlarge, click on any photograph below. Use the return key on your browser to return to this menu

| | | | |
| --- | --- | --- | --- |
| Cold Spring. All is calm after the hurricane passed. My inflatable boat was damaged/destroyed and I lost a few things including 2 bumpers and a few unsecured things on the deck. | Leaving Cold Spring with West Point ahead | | Bear Mountain Bridge |
| | The wind was blowing hard | | |
| | | | |
| The "sea" is getting angrier by the minute. A little while later, I was being pounded by 2-3 foot waves and 25 to 35miles per hour gusts of wind. I was about 3 miles/5km from the shore. | Tappan Zee Bridge. This is one of the widest points along the Hudson. | | |
| | | | |
| | Look at the clouds! | | |
| A little while later, I took very few photographs because I did not want to let go of the boat controls, the River was pounding me so hard! | Ah, the safety of the Edgewater marina! I took the micro bike and rode to the local Japanese Mall and had a very nice late lunch and purchased...Saka...from California! Come now, rice is not from Japan or China but rather was originally from Indonesia and all of the "Fine European" wines (with the exception of Corsica and Madeira) are actually using California grapes that were resistant to the infamous grape blight of the late 1890's that wiped out European Vineyards, so why not have America Sake..or American Wine?!! | | Edgewater, New Jersey, in the background. |
Day 9, Sunday, September 5, 2010
Left Edgewater Marina at 8AM and surprisingly, very few boats were on the Hudson. It was a little windy, and people were probably still concerned about the after effects of Hurricane Earl. The sky was wonderfully clear and sunny and the river was relatively smooth.
Once I reached the Battery, in southern Manhattan, Upper New York Harbor was a bit choppy with 2 foot waves and in fact it was a little difficult to cruise in the water, however it was nothing to what I had experienced the day before.
I reached my canal destination and as expected, the tide from the canal was going against me at about 2mph/3kmh, thus I continued at a slower speed. I anchored and tied up at my chosen spot without incident, happy to be back but also looking forward to my next adventure. Perhaps I will try to buy a significantly larger boat to do long range cruises, but this is still in the future. Based on my nautical charts and basic GPS, the entire trip was about 340 miles, averaging 6 miles per hour, though at times I averaged 7.5 miles per hour over a 2 hour period and at one time, I hit 11 miles per hour. The higher speed is strictly because the tide was pushing the water itself at about 3 or 4 miles per hour. My theoretical hull speed is 5.6knots (Nautical Miles per hour) or 6.5 Status Miles (regular miles) or 11.4km an hour. It is a curious formula in that the longer the boat, the faster the maximum theoretical speed of the boat. Additional motors, the width of the boat or the wight of the boat, surprisingly has little effect on the maximum speed of a non-planing boat. I did come up with several novel ideas including a method to exceed the theoretical hull speed, and and also a technique to make an existing fiberglass hulled boat more resistant to blunt impacts. I plan to test my ideas, though is still in the future. Most importantly...Home at last!
To enlarge, click on any photograph below. Use the return key on your browser to return to this menu

New Jersey

NYC skyline


The Verrazano-Narrows Bridge connecting Brooklyn with Staten Island. From 1964 until the early 1980's, the Verrazano-Narrows was the longest suspension bridge in the world. Today, it is number three with the Humber Narrows Bridge in the UK and a bridge in Japan being the longest.


Well known old clock from the former Colgate factory in Jersey City, New Jersey


The Statue of Liberty surrounded by after the Hurricane choppy water.


Final approach to my NYC anchorage


Map of journey





Return to the
main menu
Didik.com
This page: http://www.didik.com/hudson_river2010

www.DIDIK.com
Copyright©2010 by Frank X. Didik
All Rights Reserved