NEWS1
www.NEWS1.net
Business • Economic • Events • Reference

PHOTO ARCHIVES
OVER 300,000 PHOTOGRAPHS
24/7 Photo - Video News service

Worlds largest on-line photographic archive covering New York City.

NEWS1.net Report a news event or story | Request 24/7 Press Access | Breaking News | Television Documentaries | Syndicated Stories | License a Photograph | Video / Photography 24/7 | Price & Terms | CONTACT US |
NOTICE: If you would like to purchase or license a photograph, commission a
program or documentary, video or photography, or any other topic, please contact us at:
inq [ at ] News1.net
or call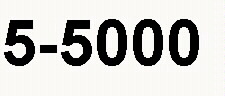 | | | |
| --- | --- | --- |
| | Commentary, Chronicle and Breaking News | |
Frank X. Didik
The facts and only the facts, without editorialization or opinion. You decide what to believe.
Click any photograph to enlarge. Press the return key on your browser to return to this screen
All photographs by Frank X. Didik unless otherwise noted


Bronx, NY March 27, 2021 Arthur Avenue in the Bronx is politically correct with a Happy Easter as well as a Happy Passover sign.

Bronx, NY March 27, 2021 Arthur Avenue in the Bronx is hopping with crowded restaurants and specialty stores.


Bronx, NY March 27, 2021 A Cigar maker in Arthur Avenue in the Bronx.


Brooklyn, NY March 27, 2021 Gasoline prices continue to increase. More inflation expected.


New York, NY March 20, 2021 An anti-racism protest in Washington Square Park. Ironically and Unfortunately, the protest was marred by anti-White racist signs.


New York, NY March 20, 2021 A restaurant in Manhattan waiting for possible patrons. Each stall has its own door.


New York, NY March 20, 2021 Necessary metal plates on the street is always disliked by urban drivers and can be dangerous when wet, because of the potential of sliding. Perhaps the plate should have a rough surface or a rough coating to prevent people and cars from sliding.


New York, NY March 20, 2021
A huge anti-lockdown protests held around the City, this one being in Union Square that attracted hundreds of people.


New York, NY March 20, 2021 The vast majority of the protestors do not believe that the Corona/China/Covid virus is nearly as dangerous as has been pushed by governments around the world. Some also feel that the virus is simply the annual flu rebranded and that there is some other sinister reason for the lockdown.


New York, NY March 20, 2021 Some of the protesters feel that there was a relatively dangerous virus, but that this virus essentially disappeared late last year.


New York, NY March 20, 2021 This individual designed a clear helmet that he said blocks viruses. It was difficult to hear him speak. This helmet requires a rechargeable battery and various fans and filters.


New York, NY March 20, 2021
Many protesters are concerned about the massive decline of personal rights and government interference on basic activities such as travel, association and the pursuit of happiness and business.


New York, NY March 20, 2021 The signs say "my body, my choice" which is a slogan commonly used by feminists when discussing abortion, but in this case, they are opposed to any of the government imposed restrictions regarding the Covid scare.


New York, NY March 20, 2021 A huge number of people protesting in Union Square about the restrictions regarding the Covid Virus rules.


New York, NY March 20, 2021 A "Black Lives Matter" button sales booth at Washington Square Park.


New York, NY March 19, 2021 A cold day to repair the electricity, but necessary.


New York, NY March 11, 2021 Washington Square Park with a bicycle rally.


New York, NY March 20, 2021 People having fun riding on one wheel. Be careful!


New York, NY March 7, 2021 The indoor mask rule continues to be insisted upon in New York State. Some say that masks are dangerous to wear full time since the wearer is constantly breathing in a certain amount of expelled air, some say the carbon dioxide trapped next to the skin causes rashes, which some say that the moisture buildup in the mask leads to respiratory issues. Most agree that masks can not stop a virus since the virus is vastly smaller than a bacteria cell.


New York, NY March 7, 2021 An interesting restaurant outdoor street kiosk with very high ceilings on West Broadway.


New York, NY March 7, 2021 Apple Computer has put up this wind and element shield along their Soho store on Mercer Street making it difficult to cross the street mid block.


New York, NY March 3, 2021 Unfortunately an all too common sight because of the lock-down.


New York, NY February 27, 2021 Washington Square Park. Young ladies having fun with hair!


New York, NY February 27, 2021 Life on some levels continues in New York City. A wedding!
| | | | | |
| --- | --- | --- | --- | --- |
| New York, NY February 26, 2021 With 50F weather, the snow is rapidly melting. The snow that remains is no longer appealing. | New York, NY February 26, 2021 Perhaps it is time to remove these "environmental" trash cans that were designed to compact garbage. As you can see, the Plexiglass covered solar panel has become opaque over time and no longer functions properly. | New York, NY February 26, 2021 Restaurants are now allowed to be open with 35% capacity provided that "social distancing" remains at 6 feet (2 meters) between each person. Whether there is any logic to this, or even if Covid hysteria is even justified, is a matter of debate. This clever sign in Soho states "leave your extra socks at home, indoor dining returns". | New York, NY February 26, 2021 The price of gasoline in NYC has shot up by $.09 per gallon in just a week. | New York, NY February 26, 2021 A sizable number of people still question the safety of the Covid vaccine, that was developed in just a few months, rather than decades, as is normally the case to develop a new vaccine. |
| New York, NY February 26, 2021 Some people question the effectiveness of face masks that were designed to filter bacteria, rather than the much smaller virus and feel that using the mask is like trying to prevent misquotes from entering a home by using a chain link fence. | New York, NY February 26, 2021 Ms. Meek has designed and developed this clever remote barber shop. | New York, NY February 26, 2021 Haircuts in this mobile barbershop on Mercer Street and Spring Street in Soho costs $45. | | |
New York, NY February 25, 2021 People waiting on long lines to receive the Covid vaccination. The vaccination is controversial because health authorities still insist that even if a person has been vaccinated, that they should still wear masks and social distance. Some foreign countries require both vaccinated and unvaccinated people to quarantine for 14 days. There are also some concerns regarding the safety of the vaccination itself and the long term effects. Vaccine companies are indemnified by the government from all liabilities that may stem from the vaccination. This actually applies to all vaccinations.
Click any photograph to enlarge. Press the return key on your browser to return to this screen
All photographs by Frank X. Didik unless otherwise noted

| | | | | |
| --- | --- | --- | --- | --- |
| New York, NY February 24, 2021 Homelessness is still a major problem in New York City. | New York, NY February 22, 2021 Cute and creative outdoor "Covid Isolation sheds" has emerged in NYC. | New York, NY February 21, 2021 For a simple, temporary outdoor Covid Isolation shed, such as this one, it costs about $6,000 to have built. More complex sheds can cost more. | New York, NY February 21, 2021 This is a creative and interesting Covid Isolation shed, located on Houston Street. One can only speculate as to the cost to build such an elaborate, temporary, shed. | Upstate, NY February 21, 2021 Solar energy a solution? Solar electric panels have significant issues. Some feel that this method is non-polluting and is a solution for the alleged climate change/global warming. Solar panels of this type lasts for about 20 years, but it requires a considerable amount of energy to produce and uses potentially deadly materials. Needless to say, if the panel is covered by snow or leaves or even rain drops, the panels ceases to produce electricity. |
| | |
| --- | --- |
| The Wall Street Bull as it is today. | Mr. Arturo DiModica's studio on Crosby Street, as it is today. Back in 1989, the front window was different in that the front ground floor was more akin to a garage door opening. |
New York, NY February
21
, 2021
The creator of the famous Wall Street Charging Bull sculptor, Mr. Arturo DiModica, has died at age 80 in Sicily, Italy.
The history of the Wall Street Bull: Back in 1989, Mr. DiModica had a two story garage building on Crosby Street in Soho. At the time, long before electric cars were in common use, I designed and built electric cars and an early CitiCar. I used to charge my car across the street from Mr. DiModica's studio. Arturo owned a small, mid-engine Ferrari. Since we both had unusual cars, we occasionally would speak to each other. From memory, Mr. DiModica had been commissioned to build TWO raging bulls for a company, but as it turned out, for what ever reason, the bulls were not transferred to the company. Initially, the bull took up Mr. DiModica's studio. After a while, he decided to get rid of it and one night, he hired a truck, lifted to bull onto the truck and then brought it to the triangle on lower Broadway where it now sits. For many months, no one noticed that this was an unauthorized stature and everyone assumed that it was just a part of City art. Then one day, a NYC agency discovered the "illegal" bull and initially wanted to fine Mr. DiModica and have it removed. However by then, the bull had been accepted as a part of city landscape and there was an uproar by Wall street types to PREVENT the removal of the bull bronze statue since they said that it represented the strength of the financial market! Eventually Mr. DiModica cut a deal for the statue and if I recall, he retained ownership and marketing rights and the city was allowed to continue to display this now landmark. What happened to the second bull? Well I am not completely sure, however I believe that Arturo only had the head cast at the foundry. For some time this bull's head adorned the outside of his garage studio on Crosby street. -- Frank X. Didik, February 21, 2021 (DIDIK.com). Rest in peace Mr. DiModica.
| | | | | |
| --- | --- | --- | --- | --- |
| New York, NY February 21, 2021 New York State still requires people to wear masks in stores. There is much scientific information that states that a virus is vastly smaller than the filtering capability of a mask, but Dr. Fauci stated last year, wearing the mask is a reminder that a virus is still with us. | New York, NY February 21, 2021 Some of the outdoor Covid Isolation booths have become rather elaborate. | New York, NY February 19, 2021 In less than a month, the price of gasoline in New York City has jumped $.16 per gallon. | New York, NY February 19, 2021 People continue to eat and drink outside with minimal heat, in the cold weather. Food becomes cold within a few minutes, so must be eaten fast. | New York, NY February 16, 2021 P Some restaurants have gone to extremes in order to make their Covid outdoor dining as comfortable as possible. |
Stanford University, California February 16, 2021 A new study conducted by Stanford University finds that for average 50 to 64 year olds, the chances of dying from Covid-19 are 1 in 19.1 million. The study further determined that the chance of getting infected by Covid-19 is 1 in 3,836. It is estimated that of those few who do get infected, 99.98 percent of Americans survive without any ill effects. With this scientific information, one has to ask if the lockdowns, business closures, school closures were ever necessary. Further, with such odds, why vaccinate at all?
| | | | | |
| --- | --- | --- | --- | --- |
| New York, NY February 16, 2021 People enjoying in Washington Square Park, an unusually warm, 55F winter day. Just two days ago, the temperature was 22F and is expected to again go down into the 20's, over the next few days. | New York, NY February 16, 2021 The cold weather and ice takes its toll on the roads in a phenomenon known as "frost heaving" where water freezes, expands and then breaks up the street and sidewalks creating potholes. | Tannersville, NY February 15, 2021 Steve Heller's Fabulous Furniture and space artifacts store outside display, probably from the 1950's. | Hunter Mountain, NY February 15, 2021 Many people from NYC enjoy this relatively close, 2 hours away, ski area. | February 15, 2021 A combination of warm and then freezing temperatures create beautiful, but potentially dangerous, icecles. |
| | New York, NY February 13, 2021 A historic Checker Taxi cab. The fact is that cars in the 1930's to the late 1950's had much more room than the most modern cars. This checker, though designed in the 1950's, was manufactured in the 1970's. Fuel efficiency is mostly a product of the total weight of the vehicle. The heavier the car, normally the smoother the ride and potentially safer the vehicle. If fuel efficiency was not an issue, a very heavy car, with modern safety designs, such as airbags, would be the best vehicle! (Go to www.DIDIK.com for more details). | New York, NY February 13, 2021 Fifth Avenue in preparation for Presidents Day. | New York, NY February 13, 2021 Again poor Atlas is suffering the indignity of his face mask that some Covid deniers refer to as a face diaper or an obedience shield, claiming that a virus is vastly smaller than the face mask can possibly shield | New York, NY February 13, 2021 Fifth Avenue on a cold winter day. |
| New York, NY February 13, 2021 An anti-fur and leather protest. Curiously, it looks as though some of the protestors are wearing leather shoes, though it is possible that they are wearing fake leather shoes. | New York, NY February 13, 2021 World War One memorial on Fifth Avenue and Central Park. | New York, NY February 13, 2021 Coming off of the Williamsburg Bridge, entering into Manhattan. For many years, graffiti, the bane of society, has been rather rare. This Graffiti is rather old. Perhaps in a few years, such eyesores will be protected as early "art". | New York, NY February 11, 2021 A very creative outdoor structure to comply with the Covid restrictions. Many questions remain regarding the both the virus and the response to the virus, with some people claiming that it is nothing more than the yearly flu rebranded as a deadly virus, while others, including most government outlets saying that it is a deadly pandemic. | New York, NY February 8, 2021 An interesting billboard on the side of a building on the Bowery and Canal Street, at the entrance to the Manhattan Bridge. |
Click any photograph to enlarge. Press the return key on your browser to return to this screen
All photographs by Frank X. Didik unless otherwise noted

| | | | | |
| --- | --- | --- | --- | --- |
| February 7, 2021 New York, NY Another snow storm in New York City, expected to deposit between 3 and 6 inches of snow. | February 7, 2021 New York, NY The snow falling is a wet, sticky type of snow, creating beautiful winter wonderland. | February 7, 2021 New York, NY Gasoline prices in this station, has increased by 4 cents in 5 days. | | February 7, 2021 New York, NY Bicycles are not well used in the cold and certainly not used very much in snowy and freezing weather. |
| February 6, 2021 New York, NY The temperature reached 48F this afternoon and is a "warm" 42 this evening letting the social starved population to meet up outside at this Soho restaurant/bar. | February 5, 2021 New York, NY A park ranger in Great Kills, Staten Island, feeding a buck in the snow. | February 5, 2021 New York, NY Great Kills harbor in Staten Island which in the summer months is filled with pleasure boats. Unfortunately, these two boats "broke mooring" and floated and crashed onto the rocks. | February 5, 2021 New York, NY This sailboat in Great Kills Harbor would have been so much fun in the summer. Unfortunately, is somehow crashed onto the rocks and sunk. | February 4, 2021 New York, NY This graffiti covered wall is just off Canal Street in Manhattan. Today rarely one sees new graffiti I suspect that in the future, such graffiti, that was considered an eye sore, may well be protected as historic art. |
| | | | | |
| --- | --- | --- | --- | --- |
| | February 2, 2021 New York, NY This is one of the disadvantages of the bike rental and bike lane system. Bicycles are used primarily in warmer weather and primarily by people under the age of 40. Quick observation also seems to show that far more men then women use bicycles. | February 2, 2021 New York, NY Most streets were plowed very quickly in NYC, however busy Forth Avenue was surprisingly not plowed. Moments after this photo was taken, the car being driven got stuck on the snow/iced road. | February 2, 2021 New York, NY Saint Marks Place and Lafayette. The famous cube sits surrounded by snow. | February 2, 2021 New York, NY This interesting blast from the past. A Russian/Ukrainian motorcycle with an open side car makes its way down a frozen street. |
| February 2, 2021 New York, NY People enjoying Washington Square Park. | February 2, 2021 New York, NY It must be cold (and slippery) riding a bicycle on this 30F day! | February 2, 2021 New York, NY Even poor Mickey Mouse had trouble on this cold day on Manhattan Avenue in Greenpoint Brooklyn. | February 2, 2021 New York, NY Most born Manhattanites know that snow plows plow the snow to the right and so it is important to park on the left side of the road, so that your car is not buried! | February 2, 2021 New York, NY Even with the declared state of emergency, it is important that essential goods, such as food be delivered. Here are trucks entering onto the Manhattan Bride on the Brooklyn side. |
| February 2, 2021 New York, NY Almost empty Manhattan Bridge from Brooklyn, going into Manhattan. | | February 2, 2021 New York, NY Notice that all snow plows push the snow to the right, not the left, so it is important to park your car, if possible, on the left side of the road, so that you will not be buried! | February 2, 2021 New York, NY In compliance with President Biden's and also NYC declarations that bathrooms, that were formerly segregated to Men and Women are now open to all. | |
February 2, 2021 New York, NY An estimated 16 inches of snow has fallen on New York City since Sunday afternoon. The snow, which is now light, is expected to end this evening around 6PM.
February 1, 2021 New York, NY New York State Governor Andrew Cuomo has urged people to stay home and only drive in an emergency.
January 31, 2021 New York, NY A massive snow storm is headed towards New York City with expected snow accumulations of between 12 and 17 inches. The storm is expected to start around 4PM today and end on Tuesday, February 1, in the afternoon. Mayor Bill DeBlasio has declared a state of emergency and is urging all non essential workers to stay home, because of hazardous conditions.
January 28, 2021 New York, NY It has been reported that the American Journal of Medicine has published a study affirming the effectiveness of hydroxychloroquine for use in treating Covid-19. This was the same medicine that former President Trump was pushing, but was at the time said to be ineffective in treating Covid-19.
January 28, 2021 New York, NY It has been reported that NY nursing home deaths from Covid-19 were 50 percent higher than claimed. This includes nursing home individuals who died in the hospital, rather than in the nursing home. An investigation in on going by the New York State attorney generals office.
January 28, 2021 Washington D.C. It has been reported to the National Vaccine Information Center (VAERS), which is a vaccine adverse reaction tracking system funded by the Center fro Disease Control (CDC) that 273 people have died and 9,845 people have had adverse reactions after receiving the Covid-19 vaccination, as of this date. This is out of about 2 million people who have received the vaccination. Reporting to this federally funded site is optional and thus the numbers may be higher. https://medalerts.org/vearsdb/findfield.php? .
January 28, 2021 New York, NY New York City is expected to experience an extreme cold spell starting tomorrow and extending till Saturday, January 30, with lows going down to 15F and highs only in the low 20's.
January 23, 2021 Washington, D.C. The Center for Disease Control and Prevention Domestic Surveillance (CDC) told the Washington Post that during the second week in January, only 27 people tested positive for the flu in the United States. This contrasts with 14,657 who tested positive for the flu the same time in 2020. This is the lowest number of flu cases in at least 30 years. Some reasons given for this includes more people getting the flu vaccine, social distancing and other measures to help slow the spread of Covid-19. Some have suggested that flu cases have been mis-diagnosed as Covid 19 cases. If this was the case, adjusted yearly, this would mean that over 750,000 flu cases were said to be Covid-19 cases.
| | | | | |
| --- | --- | --- | --- | --- |
| January 22, 2021 New York, NY These cute, tiny plastic houses were built in the Macy's area to help keep people warm during the pandemic hysteria. | January 22, 2021 New York, NY This SoHo bar/restaurant is hopping (outside), with the relatively mild (40F) weather. | January 22, 2021 New York, NY Gasoline prices are quickly increasing in price. | | January 22, 2021 New York, NY This restaurant in Tribeca has built tiny, enclosed, warm rooms for people to eat and drink in. |
January 20, 2021, 12 noon Washington, D.C. Joseph R. Biden has been sworn in as the 46 president of the United States after a very contentious election with rampant accusations of massive election fraud and allegations of a stolen election. Washington D.C. is a closed city, with the streets deserted. Instead of thousands of people in the Capital Mall, the area was empty and instead an estimated 200,000 flags were stuck in the grassy mall. The official narrative was that the flags represented the large number of people who are said to have died of the Corona/Covid illness. Unlike previous elections since the founding of the country in 1789, there were almost no civilians watching the election. Some say that President Biden's inauguration was attended by the largest crowd of his career, with the 25,000 plus National Guard troops and thousands of police officers from around the country. Unfortunately the country is still divided almost down the middle with half of the country still believing that the election was stolen. The philosophies of the two sides are radically different. The "conservatives" believe in the idea of America first, anti abortion, lower taxes, less regulations, anti-immigration and self reliance. The "liberals" believe that the government must take a greater roll in taxing the rich, paying for services such as medical, food, housing, for the people of moderate means as well as greater laws with the hope of improving the environment and controlling the effects of the theory of climate change, as well as eliminating the notion of American exceptianalism and making the USA one country of many, rather than somehow better than other countries. These differences will not make it easy for unification of the country.
January 19, 2021 Washington, D.C. The NYPD has sent 200 police officers to assist in the presidential inauguration tomorrow. Countrywide, 3,000 police officers were requested to serve in Washington D.C. along with an estimated 25,000 National Guard troops.
January 19, 2021 Washington, D.C. Is in complete lockdown and is essentially a closed city in preparation from the presidential inauguration Joe Biden tomorrow.
January 18, 2021 Brooklyn, NY A large group of protesters marched from the Barclay Center on Atlantic Avenue to Manhattan protesting. A number of protesters, believed to be numbering over 20, were arrested in Manhattan. They are protesting that a Police Officer assigned to the 84Pct in Brooklyn allegedly drew his gun when he was confronted by a different group of protesters. He never pointed the gun at the protesters, quickly put the gun back in his holster, then pulled out a can of pepper spray, which his never used, put it away and finally simply held his baton, though again, never used it. One can only wonder what the outcome would have been in different cities or countries.
January 16, 2021 Washington, D.C. Washington D.C. has become essentially like a closed city. There are military checkpoints to enter and leave downtown Washington. Bridges from nearby Virginia and scheduled to be closed next week, prior to the inauguration of President elect Biden. The National Guard has been authorized to use lethal force. This is probably the first time since the Civil War that this has happened. Such actions are reminiscent of the old Soviet Union. The country is clearly extremely divided with about half the voters under the impression that the election was somehow stolen and that the election numbers are tainted.
Click any photograph to enlarge. Press the return key on your browser to return to this screen
All photographs by Frank X. Didik unless otherwise noted

| | | | | |
| --- | --- | --- | --- | --- |
| January 17, 2021 New York, NY Fanelli's in Soho with their outdoor dinning | January 16, 2021 New York, NY Chinatown in Manhattan is very creative with their outdoor dining. | January 16, 2021 New York, NY Chinatown is beautiful getting ready for the Chinese New Year and also celebrating the 2021 New Year. | | |
| January 16, 2021 New York, NY Delicious and inexpensive roast duck on Mott Street in Chinatown. | | January 16, 2021 New York, NY Tourists and just admirers in Chinatown. | January 16, 2021 New York, NY Defund the NYPD? No way! We need to support the police in order to keep the city safe and maintain order. | January 16, 2021 New York, NY Random crime seems to be on the rise in New York City. Some jerk banged a hole in this jewelry store on Canal Street in Manhattan, but apparently left with nothing. |
January 14, 2021 New York, NY According to the New York Post, New York City tenants owe over 1.1 Billion Dollars. Further, about 50,000 tenants are more than $15,000 behind in rent. Presently, there is an eviction moratorium in NYC, that in December, was extended to May 1, 2021. Some tenants have not paid rent since March, 2020. This is a huge burden on landlords who are hoping for Federal Government (taxpayer) funds to cover some or all of the rent. The eviction moratorium also covers mortgages and certain foreclosure actions till May 1, 2021. Further, non-payment can not be used as a blemish in credit reports.
January 14, 2021 It has been reported that Merck has abandoned its Covid-19 vaccine efforts. The company announced that their shots V590 and V591 were "well tolerated" by test patients, however they developed "inferior" immune system response, in comparison with the natural infection. Thus a person who has had Covid-19 had superior resistance to getting the virus again. Merck stated that they would concentrate their efforts on therapeutic Covid-19 drugs including MK-7110 and MK-4482 that in phase 3 studies has shown a greater than 50% reduction in deaths for patients hospitalized with Covid-19. The drugs are designed to prevent patients from damage from an overactive immune response to the virus.
January, 2021 The Vaccine Adverse Event Reporting System (VAERS), a federal database, has reported that 55 people have died after receiving either the Moderna or Pfizer-BioNTech vaccine, according two reports submitted to the system.
| | | | | |
| --- | --- | --- | --- | --- |
| January 16, 2021 New York, NY Traffic is back in NYC, even with the repressive lock-downs and unfair notion of essential businesses. | January 13, 2021 Brooklyn, NY Protests around the 84Pct in Downtown Brooklyn. | January 12, 2021 New York, NY The famed Flat Iron building on Fifth Avenue and 23 Street in Manhattan is undergoing renovation. The building was finished in 1903 and was the tallest building in the world, for a brief period. | | |
January 13, 2021 Washington, D.C. It is now estimated that 20,000 National Guard troops have entered Washington, D.C. in advance of President elect Joe Biden's swearing in ceremony on January 20. Further, it has been reported that the troops are being issued live ammunition, such is the fear that there may be civil unrest in this most contested election and swearing in since Lincoln in 1861. For the first time in memory, the ceremony will be a "virtual" ceremony and presumably not held outside.
January 12, 2021 Washington, D.C. The United States military joint chiefs have distributed a shocking letter to all troops telling the soldiers not to participate in any sedition or revolt. This might be interpreted as a fear that the soldiers themselves may take sides. For the record, the President of the United States is the commander and chief of all military services and he is followed by the Secretary of Defense. The joint Chiefs are under the president.
January 11, 2021 New York, NY According to an NYPD press release dated January 6, 2021, the overall crime rate in 2020 reached a record low. In 2020, the overall all reported incidents was 95,552 which was 681 less than 2019 and 11,668 fewer incidents than in 2014.
January 11, 2021 It has been reported that Twitter has suspended over 70,000 accounts for sharing QAnon information. Though some ideas seem absurd to many people, such as alien abductions and whatever, traditionally in America, we had the concept of free speech. Such censorship runs counter to American ideals. Similar to shopping malls, which are also privately owned, social media platforms have emerged as the new town square for expressing ideas, no matter how absurd or unreasonable it might seem to others. The courts have long ruled that free speech is permitted in shopping malls.
January 11, 2021 Washington D.C. About 6,000 National Guard troops from various states are expected to arrive in Washington D.C. to increase security around the Capital. There is fear that the presidential swearing in on January 20th may incite another wave of violence. Such a show of force has not been seen since 1861, with the swearing in of President Lincoln.
Click any photograph to enlarge. Press the return key on your browser to return to this screen
All photographs by Frank X. Didik unless otherwise noted

| | | | | |
| --- | --- | --- | --- | --- |
| January 10, 2021 Greenpoint, New York City Popular restaurants continue to attract limited crowds in temporary street structures with open sides, even in 40F/4C weather. | January 10, 2021 Gasoline continues to go up in price, though not to the level of last year. In this case, about five cents in one week. | January 10, 2021 Union Square, New York. A pro Trump, anti Communist protester. Union Square has been known for protests for over 100 years. | January 10, 2021 Union Square, New York. An anti-Covid-19 vaccination protester stating that aborted children somehow played a roll in the development. | January 10, 2021 Union Square, New York. An anti-mask protest. They claim that masks can not prevent the spread of a virus and that masks are a form of control of the people. They further claim that continuous mask usage can cause a variety of medical including acne and skin rashes,among other issues. |
| January 10, 2021, New York Homelessness has again emerged in NYC | January 10, 2021, New York Why are these potentially dangerous metal seats now found throughout New York City? I am always afraid of banging my leg into the sharp sides. Bring back the old wooden seats or at least a seat that is both more comfortable and less of a risk to one's leg! | January 10, 2021, New York Christmas, which runs from December 24 to January 7th, is now over and it is time to collect the Christmas trees. | January 10, 2021, New York. Churches and synagogs are allowed to be open, as a result of a U.S. Supreme Court ruling, however many businesses are forced to either close or have very limited hours or people inside. | January 10, 2021, New Jersey. Many stores are closing down, because of the Covid-19 mandated lock-downs and restrictions. New Jersey does allow limited indoor dining unlike New York City. |
January 10, 2021 New York, NY The radical socialist group Antifa, all dressed in black, marched down Fifth Avenue in Manhattan, starting at 59 Street. The front row of this group carried homemade steel shields, that looked as though they were made from cut in half 55 gallon steel drums. This group reminds many like the paramilitary fascist groups in Spain, Italy and elsewhere, in the 1930's. Though they say they are for freedom and free speech, they do not seem to accept any viewpoint except their own. Unfortunately, this intolerance seems the norm in 2021 America. What ever happened to the ideal of uncensored, free speech and expression of ideas?
January 10, 2021 Quebec Canada In an effort to control an stated new strain of the Corona/Covid-19 Virus, Quebec has instituted very strong rules governing personal movement. A curfew has been imposed from 8 p.m. to 5 a.m., no one is allowed on the streets. Anyone caught outside during this lock-down period is subject to a $6,000 (Canadian / $4500 US) fine.
January 10, 2021 There is concern emerging that the country may be falling into a new type of totalitarian situation. Over the past four days, the privately owned social media companies have banned the President of the United States from addressing his followers. Apparently, though unconfirmed, thousands of Trump followers has been banned from the same sites. Reports have come in that people have lost their jobs for joining in the protest (not the invasion of the capital building), including police officers, fire department personnel, school teachers and many others. In some cases, various websites that cater to conservative views have apparently been banned by the major hosting sites. Some people in the media and government has stated that a database should be created to register the Presidents supporters , so that they may be "held accountable" for the presidents actions. This is unheard of in American history. Though one might not agree with certain political views, traditionally political talk and assembly has been protected by the U.S. Constitution and the Bill of Rights.
January 10, 2021 Washington D.C Representative and Speaker of the House, Nancy Pelosi is pushing to remove President Donald J. Trump from office using the the 25th Amendment. Mr. Trump has ten days left in office before president elect Joe Biden is sworn in to be the next president.
January 8, 2021 Washington D.C Sadly, it was confirmed that a Capital Police Officer died Thursday night of injuries sustained during the violent riots on Wednesday at the Capital. Unconfirmed reports state that the officer was struck in the head by a fire extinguisher hurled at him.
January 8, 2021 Washington D.C There has been calls from the Democrats and some republicans to remove President Trump from office, using the 25th Amendment. President Trump has been blamed for the riots that emerged during the huge pro-Trump rally on Wednesday, January 6 and the and brief take over of the Capital Building. Vice President Pence, who has apparently recently broken from President Trump, is said to be opposed to removing the President with the 25th Amendment. President Trump has only 12 days left in office before President elect Biden is sworn in.
January 8, 2021 Washington D.C Video's have emerged that conflicts with our earlier report of non-violent protests at the Capital. There have also been unconfirmed reports and circumstantial evidence indicating that members of Antifa infiltrated the pro-Trump protesters and acted as agent provocateurs and instigated violence. There are many speculative stories coming out of Washington D.C. at this time.
Click any photograph to enlarge. Press the return key on your browser to return to this screen
All photographs by Frank X. Didik unless otherwise noted

| | | | | |
| --- | --- | --- | --- | --- |
| New York, NY January 7, 2021 January 7 is celebrated as Christmas by over one billion Orthodox Christians worldwide. This includes Greek, Russian, Armenian, Coptic and many other Orthodox Christian groups. | This is Orthodox Christian Christmas Eve (January 6/7) at the famous Russian Orthodox Church of St Nicholas between Fifth Avenue and Madison Avenue on the Upper East Side of Manhattan. | There is a very ancient feeling to their Christian service that missing from many other non-Orthodox Christian groups, such as Protestants and Catholics, except perhaps the Catholics who celebrate the pre-Vatican II traditional Latin Mass. | Originally all Christian groups were one. Between 2,000 years ago and about 1,700 years ago, most of Christianity was centered in the middle east and what is now Turkey. Gradually Rome became the focal point for the western Christians. In 1054 AD, the Roman Catholic Church and the Orthodox churches seperated. The is known as the Great Schism. | Unlike many other Christian groups, the Russian Orthodox and perhaps other Orthodox groups, do not have seats in their churches. |
January 7, 2021 Washington D.C In the wake of the Pro-Trump protests, president elect Joe Biden stated that he plans to make it a priority of new domestic terrorism laws.
January 7, 2021 Washington D.C First hand account of the events of the day by photographer photo/journalist Sue Ann Miller exclusive for News1.net:
"I was there. In the front lines of an angry -- yet PEACEFUL -- crowd of thousands of pro Trump supporters who were attempting to have their voices heard. When the temporary fences were breached around the Capitol Building and the Capitol police were forced to fall back, I managed to get on the top row of the temporary structure for inaugural guests and had a very good view of the Capital doors.
NO ONE got in that way. No one. There were continual skirmishes between the police, who often sprayed the people in front with 12' red streams of pepper spray from industrial-type sprayers (not the little cans), who would then fall back, or throw flagpole sticks and water bottles at the police. Several police plexi shields were pulled away and used against them. The police occasionally lobbed tear gas cannisters at the packed areas, but not too often because of the risk to hit someone in the dense crowd. Aside from that one contested door -- where there were some almost funny 'poking contests' with police and citizens both using long flag sticks to 'beat on' each other -- it was as if both sides were VERY mindful these were fellow Americans. That single door was never breached, despite repeated pounding. At one point, a 10' construction ladder was used as a rammer, but got pulled inside by the cops. No weapons, no shots on either side. The pro Trump supporters brought no tools... and no plan, no organization.
But, there was a LOT of CS gas used. The pro Trump supporters peacefully refused to leave, and after dark, several hundred Virginia State police in full riot gear arrived, used massive clouds of tear gas, and marched towards the crowd in an elbow-to-elbow line. They pushed the crowd back to a granite wall. The Virginia State troopers discipline was very good and did not react to taunts. Like robots. ZERO violence, I only saw ONE bloodied person who had the misfortune of being hit by a tear gas grenade.
I was so covered in tear gas, that I had to wash my hair 3 times. Swollen eyes, coughing, crying -- we just poured water on our masks, which btw, 2/3 of people were not wearing, did have one in my pocket -- and maintained as well we could.
No rioters. No violent cops. Just a lot of really pissed-off, citizens. Plenty of Grandma's, like me. No kids. If people had breached that hotly contested door, OUR House would have been peacefully flooded with touristy respectfully gawking wall-to-wall middle Americans, tempering any over-enthusiastic young pro Trump supporters attempted vandalism of those hallowed halls. Whoever DID get inside had to have been LET IN through another door." -- A first hand account by By Sue Ann Miller exclusive for News1.net.
Note: Sue Ann Miller, based in North Carolina, is a known fashion photographer and photojournalist who over the past 40 years, has been published in countless leading fashion magazines and newspapers world wide including the New York Times, regarding the NYC area.
January 6, 2021 Washington D.C By 7:30 PM, the capital building was cleared of pro-trump people. In a late night session, Joe Biden electoral college election was confirmed and Joe Biden will be sworn into office on January 20, 2021. It is interesting to note that close to 130 Republican representatives and senators had stated that they would oppose the Biden confirmation, however after the brief pro-Trump capital takeover, they changed their minds and went with the Democrats in accepting President elect Biden. The country is deeply divided down the middle, with half of the country claiming that the election was stolen because of ballot stuffing. The differences are so great that it remains to be seen what will happen next.
January 6, 2021 Washington D.C The Republicans have "lost" Georgia and with Georgia, the Democrats now control both the House of Representatives as well as the Senate. This means that the Democrats will be able to carry out their policies without obstacles.
January 6, 2021 Washington D.C The U.S. Capital building, which has been occupied by belligerents for the first time since the War of 1812, when it was occupied and then all but burnt down by Canadian troops under control of the British, has been cleared of protesters. During the afternoon occupation, representatives and senators ran away, in terror no doubt, from the invading protesters. Besides the main capital room, many representatives and senators had their private offices occupied including Speaker of the House, Nancy Pelosi's office. At least one person was shot to death During the occupation. The protesters allege that the last presidential election was stolen from President Donald J. Trump, by a conspiracy of Democratic groups. President Trump has refused to concede the election loss to apparent President elect, Joe Biden. Since country is divided down the middle, with very different points of view, the thought that enters everyone's mind is if this division might lead to civil unrest.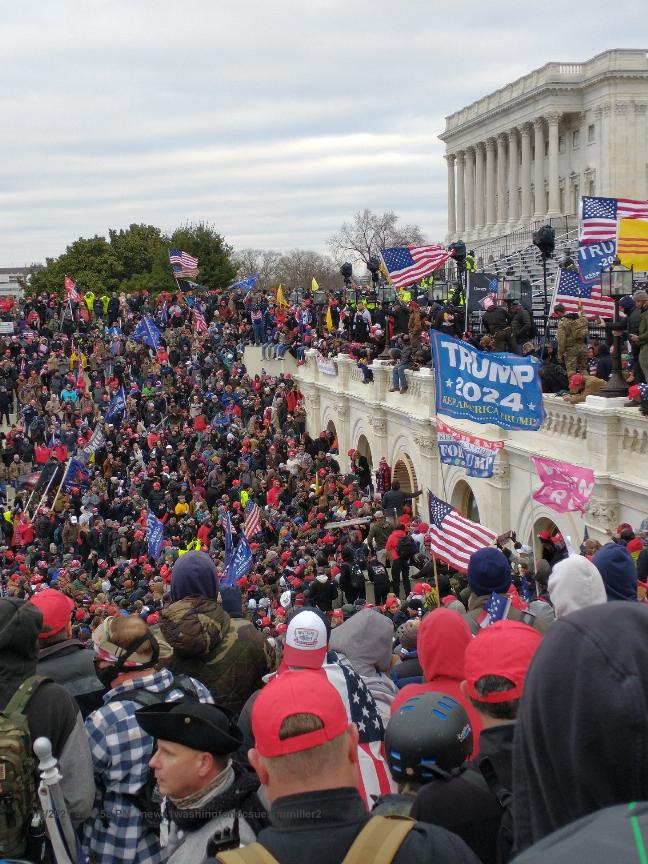 The pro-Trump crowds around the U.S. Capital building has swelled to
several hundred thousand people of all ages and walks of life.
Washington, D.C. March January 6, 2021 1:15PM
By Sue Ann Miller exclusive for News1.net
January 6, 2021 Washington D.C At the request of the U.S. National Guard, Governor Andrew Cuomo is sending 1,000 National Guard members to Washington D.C..
January 6, 2021 Washington D.C A woman was shot in the neck allegedly by a Congressional security agent, threw a closed door with a broken glass window. The women was said to be in the back of a large crowd. It has been reported that the woman has died of this wound and has been identified as a 14 year Air Force veteran named Ashley Babbitt from San Diego and was apparently a former security expert.
SPECIAL FOR NEWS1.net Developing story: January 6, 2021 1:15PM Washington D.C Our photographer in Washington D.C. just texted us that Trump supporters have overwhelmed the Washington D.C. police and have entered into the capital building. Supposedly people inside of the building are hiding from the protesters. Cellular internet access is either being overused or has been cut off. More soon.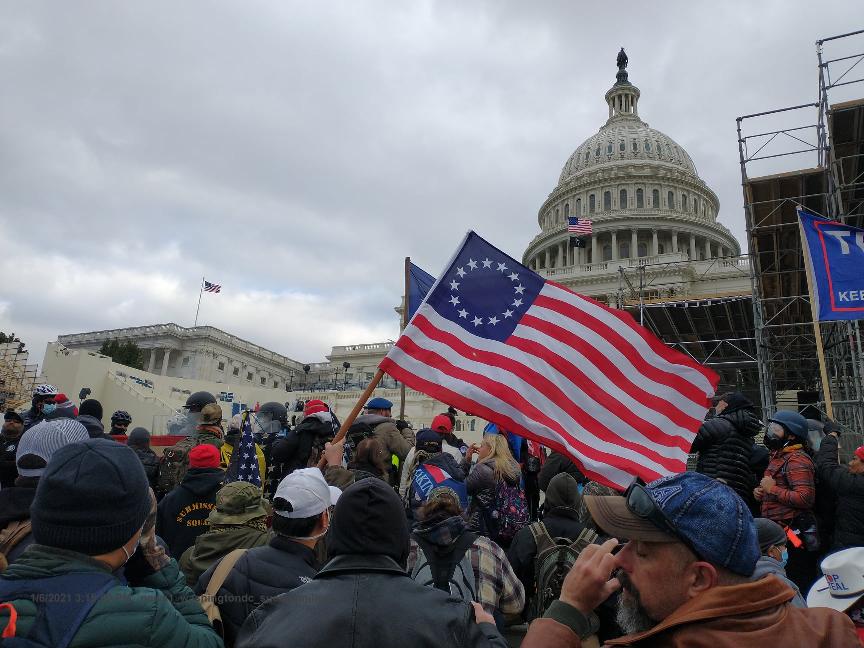 Washington, D.C. March January 6, 2021 1:15PM
By Sue Ann Miller exclusive for News1.net
January 6, 2021 1:15PM Washington D.C Vice President Mike Pence, at the election certification, has stated in a letter that he does not have the power to block a congressional certification of Joe Biden's victory in the presidential election. Vice President Pence stated that he did not believe that the founders of the country intended to invest the vice president with the unilateral authority to decide which electoral votes should be counted during the joint session of Congress.
January 6, 2021 Washington D.C 12:00 noon President Donald J. Trump addresses the crowd of his supporters who have entered Washington DC ahead of the election certification. According to a News1.net photographer at the event, the crowd is not as large as some had expected, and the crowd is very peaceful, but unhappy about the turn of events. Photographs to follow shortly.
January 5, 2021 It would seem that most people in the United States are very reluctant to take the quickly developed Corona/Covid-19 vaccination. It is estimated that only 22 percent of the shipped vaccines has been administered country wide. To encourage people to take the vaccination, a hospital in Texas is paying their medical staff $500 if they take the vaccine. Still, only a small percentage of the medical staff has agreed to take the vaccine.
January 4, 2021 New York City It was reveled that of the 630,000 Covid-19 vaccinations sent to New York State, only 200,000 has been administered. Surprisingly, this 30 percent usage is higher than the national average with only about 22 percent of the shipped vaccines having been injected into people. Most of the people who received the Covid-19 vaccinations appear to be in nursing homes and a handful of medical workers. The question is if people are refusing to take this rapidly brought to market vaccination or if the state distribution methods are not efficient. In New York State, governor Cuomo and mayor De Blasio are blaming each other for the low numbers. The exact numbers of people who have submitted to the vaccination is not known in New York State, since the state has stopped releasing the statistics.
January 4, 2021 Washington D.C The Washington D.C. residence of Senator Josh Hawley of Missouri was attacked by Atifa protesters demanding that he not contest the election certification tomorrow. Apparently some of the "protesters" attempted to break into his home where his wife and infant child was. The Senator himself was in Missouri. According to Senator Hawley, the protesters screamed threats, vandalized, and tried to pound open his door before police arrived. The country is divided down the middle and this may well lead to civil unrest. It has elements of what happened before the Spanish civil war in the 1930's.
January 3, 2021 Washington D.C President Donald J. Trump tweets that the number of Covid-19 cases is far exaggerated. The exact quote is "The number of cases and deaths of the China Virus is far exaggerated in the United States because of @CDCgov's ridiculous method of determination compared to other countries, many of whom report purposely, very inaccurately and low. "When in doubt, call it Covid" Fake News!"--President Donald Trump.
January 3, 2021 New York City A crazed bat wielding man attached and injured multiple people require hospitalization and then carjacked and crashed, two separate vehicles. The rampage started in Tribeca. It is essential that the bail reform act be repealed or modified and that violent accused criminals remain in custody, without being released before their trials. Further, the NYPD must be properly funded and allowed to do their job of protecting innocent people, property and maintaining order. Presently, the sudden crime wave is out of control.
Click any photograph to enlarge. Press the return key on your browser to return to this screen
All photographs by Frank X. Didik unless otherwise noted

| | | | | |
| --- | --- | --- | --- | --- |
| January 3, 2021 New York City Businesses continue to close down because of the State ordered Covid-19 lockdowns. | January 2, 2021 Greenpoint Brooklyn, Queens Christmas/holiday lights are still up throughout the outer boroughs. Traditionally Christmas Starts on Christmas eve, December 24 and ends the Three Kings Day or Epiphany, January 7. January 7th is also the Orthodox Christian Christmas. | | January 1, 2021 Rockefeller Center, New York The indignity of a facial mask is back on Atlas, the worlds strongest man, after it was removed for several weeks. | |
January 2, 2021 New York City The number of people shot in New York City in 2020 equaled the total number of people shot in 2018 and 2019 combined. This represents an astronomical increase in the number of shootings and crime increase. NYC is clearly falling into criminal chaos. In June, 2020, in response anti-police protests, the NYPD disbanded its Street Crimes Unit which many people felt minimized street crime. Further, the State of New York bail reform law has allowed large numbers of suspects free without bail, to roam the streets. In addition, thousands of low level prisoners were set free to assist in avoiding Covid-19 exposure. The result has been a huge increase in the crime rate. As a result of partial defunding of the NYPD, it is estimated that only 70% of the shootings in 2020 remain unsolved. Clearly for the safety of NYC law abiding inhabitants, we need a well funded and effective NYPD.
January 1, 2021 Surprising statistics have emerged that many health professionals are refusing to take the recently released Covid-19 vaccination. Apparently in California, between 25 and 60% of the health professionals, who were offered the vaccination have declined taking it. Other hospitals around the country have reported similar statistics. Here in NYC, the FDNY union stated that about 55% of the firefighters questioned have stated that they would not be willing to take the vaccination. Reasons given include the feeling that it was rushed into production, the potential side effects and that the long term effects are not completely known. Some have also questioned the need to be vaccinated for a disease in which 99.7% of the people who contract it, fully recover.
January 1, 2021 According to the New York City Sheriffs office, 3 illegal New Years Eve parties were shut down in NYC including one in Manhattan, one in Queens and one in Brooklyn. The organizers of these parties face up to a $15,000 fine for defying Governor Cuomo's executive orders restricting such gatherings, in an effort to prevent the spread of Covid-19/Corona Virus.
January 1, 2021 The website WorldOmeter.net, which tracks global statistics, released the major causes of death in 2020. In 2020, 1.2 million people died from or with Covid-19/Corona virus. This contrasts with 8.2 million people who died from cancer, 5 million who died from smoking related illnesses, 1.7 million who died from HIV/Aids, and 42.7 million who died from abortion.
January 1, 2021 Happy New Year! Let us hope that this will be the case.
Click any photograph to enlarge. Press the return key on your browser to return to this screen
All photographs by Frank X. Didik unless otherwise noted

| | | | | |
| --- | --- | --- | --- | --- |
| | December 27, 2020 Gasoline prices are rapidly increasing. Super was just $2.59 a gallon a few days prior and a month ago, it was $2.46 per gallon. | | December 30, 2020 As seen from the Manhattan Bridge A cute pro-family/pro father advertisement. | December 27, 2020 Soho, New York City People continue to eat outside in 30F and 40F weather, so powerful is the desire to socialize. |
December 31, 2020 New York City The annual New Years Eve ball drop in Times Square, that has been a focal point of the City since 1904, will continue, however the entire area will be empty except for a few lucky individuals who will have special passes to view this. Normally, the event attracts hundreds of thousands of people.
December 29, 2020 New York City Dozens of bicycle riding teenager thugs terrorized Manhattan drivers. In one case on Fifth Avenue and 21 Street, a group of delinquents attacked a late model BMW SUV with a doctor driving his 70 year old mother. The thugs jumped on the drivers hood, smashed his front window, and attempted to pull the people out of their vehicle, all in broad daylight, on busy Fifth Avenue. A few minutes later, the bicycle terrorists attached a yellow taxi on nearby 6th Avenue. The cabby was rescued when other taxi's surrounded their fellow cab driver. It is stunning that these teenager thugs would attach innocent people at 4PM in broad daylight. We must have a well funded, strong NYPD who are free to enforce the law and protect the vast majority of law abiding citizens.
An excellent selection of photographs and commentary from 2020, primarily from New York City:
page 1 Christmas time 2020, election results between Donald Trump and Joe Biden, Protests and more
page 2 Happenings around New York City in relative calm
page 3 Massive protests, looting and rioting by the groups Antifa and Black Lives Matter. Also shows the after effects of a boarded up city.
page 4 An empty, silent New York City from March and April, 2020
Photo Journalistic Index


NEWS1
Breaking
News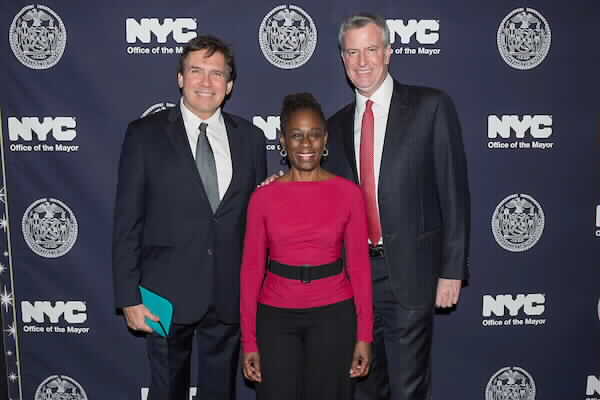 Frank X. Didik with NYC Mayor Bill DeBlasio and first lady Chirlane McCray, at Gracy Mansion.
OP-ED
Inflation. Apparently, inflation is back, though not as severe as in 1980-1982. Items such as housing purchases, used automobiles, fuel and food has increased by a fairly high amount, with some estimating this to be about 15% over the past four months.
If the vaccination works, why must people still wear masks and why the need for a "Vaccination Passport"? Obviously, if someone decides not to take the vaccine, THEY are the one's who might be at risk. Why would people NOT want to take this potentially life saving vaccination? There are a number of reasons including that some of the vaccinations used aborted baby's/fetuses, some people question how a vaccination can be developed in two months, while the average time it takes to develop a vaccine is 13 years and some people feel that there is not any need to take it considering that the recovery rate is just under 100%. Finally, some people feel that the risks of permanent injury or death from the vaccine, outweighs the risks from the potential of getting the vaccine. The concept of "my body, my choice also seems to be a factor to decline taking the vaccine. Presently about 50% of the United States has taken or plans to take the vaccine.
Massive inflation coming? Frank X. Didik, January 2, 2020. At the start of 2020, it is estimated that the United States national debt was 21 Trillion dollars. As of January 2, 2021, as a result of the vast "printing" of additional money for Covid Relief and other expenses, this debt is estimated at just under 30 trillion dollars. Surely, one would think that a 30% increase in money supply would lead to significant inflation, but this has not happened. I believe that this is primarily because of vast production surpluses, on every level including manufacturing, services and farming. Robotics, efficient computerized allocation of resources and transportation has produced enough for everyone, without pressure on the market.
DO NOT DEFUND THE POLICE With skyrocketing crime, it is clear that NYC must have an effective and well funded NYPD otherwise we will be like the wild west.
Similarities between the current lock-downs and Prohibition Frank X. Didik, January 2, 2020. Many people feel that the shock of the lockdowns is unique in American history. This is not the case. There have been many shocking, similar instances of business closures or being greatly curtailed in American history. Some examples include in 1919, with the introduction of Prohibition, when all of the bars and liquor stores were suddenly closed and it was impossible to legally purchase alcohol. Clearly it was shocking when the leisurely pint after work and the closures of bars, must have been shocking. Prohibition ended in 1933. During World War 2, there were also many restrictions on rationing of many previously common items such as meat, sugar, gasoline and other items. Similar restrictions and shortages also occurred During the Civil war of 1861-1865 and the Revolutionary War of 1775-1783.
Remote working, office space, the diminished need for employees Frank X. Didik, January 1, 2020 It is fascinating to note that as a result of the government imposed Covid-19 restrictions, that for a period of time, an estimated 30% of the population was out of work, and yet the country did not experience any long term shortages, in any area. One might say that this is a wake-up call for companies to show them that they have too many redundant employees. read more
Does constant mask wearing reduce cognitive ability? Studies have shown that people inhale between 7% and 12% of their exhaled breath, with an accumulation of carbon dioxide. Does this cause minor cognitive loss for the wearer over time? Further, over time, the masks quickly become both moist as well as becomes a breading ground for bacteria. Also, does the additional stress on the lungs to breath through a filter effects the lungs? More studies must be performed to determine if mask wearing causes biological issues as well as phychological issues over time.
Lockdowns benefit large companies at the expense of small stores and businesses Frank X. Didik December 16, 2020
It has become obvious that the lockdowns, imposed by most of the states to control the spread of Covid-19, has clearly benefited large companies, particularly on-line mega-companies, at the expense of small, local businesses, that were forced to either close their doors or greatly curtail their operations. It was estimated that these small companies and stores represented about 60% of the economy. As a result of the government imposed lockdowns, much of this bushiness activity and wealth has been transferred, perhaps permanently, to the on-line stores. This is rapidly creating a vastly different business environment and potentially will reduce the ability of an individual to start their own business in the future.
NYC heat wave
NYPD Chief of Department attacked
Thousands of New Yorkers are leaving
A new job apprenticeships website
New Federal hiring guidelines
NYPD shows extreme professionalism and restraint Read more
NYC under curfew read more
Stores looted May 31, 2020 read more
Protests erupt in NYC read more
Congress proposesTRACE Act read more
History of Corona Virus read more
Gasoline & fuel prices plumet read more
Covid-19 April 2020 news. read more
Corona Shut-down read more
Congress aproves of2 trillion read more
Protestors object to shutdown read more
Photographs of empty New York Citymore
Federal reserve on Covid-19 read more
OP-ED
Defund? Some anti-police groups have called for the defunding of the police around the country. Question: late at night, if you are traveling in an empty subway car and two police officers come on, do you feel threatened or are you relieved and hope that they stay on for the duration of your trip? The answer is obvious. The police are essential to maintaining order in any society.
Corona Paycheck program read more
Remote salary protection read more
Internet censorship read more
People should be responsible for themselves and carry their own weight in society read more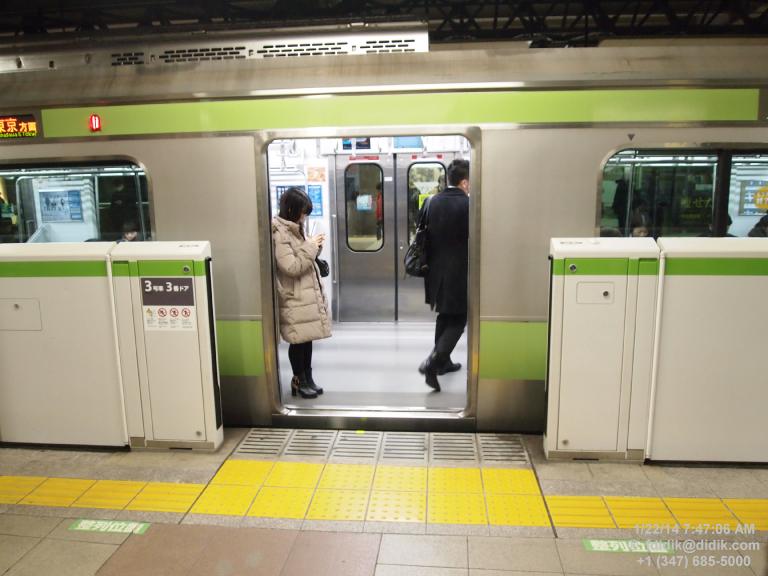 Subway Safety-Subway Gate Every year hundreds of people are killed or severely injured when they fall onto the tracks of trains and subways. The prevention is cost efficient and greatly reduces liability ... read more ...
Greatly reduce train noise A significant amount of train noise is caused by the train wheels rolling over the expansion joint of the tracks. This vibration creates noise, vibrations, an less pleasant ride and also reduces the life cycle of the train. The solution is relatively simple and cost effective..read more ...
Corona Virus: What I have observed regarding the Corona Virus can be read here. Further, my photographs of empty New York City, can be viewed here.
Pentup Demand caused by Covid-19 lockdown? Unlikely. People are used to staying home, have developed new habits, and after being out of work, will probably want to save money.
Hysterical Fears pushed in the media and other sources: What ever happened to Y2K, the Ozone hole, nuclear winter, missile gap, read more
Restaurants and Bars will spring back? Very unlikely. People go to these places not only to eat and drink but primarily to socialize. If people are social distanced, why go out?
Corona Virus "Experts"? Who is to say who is an expert when the entire virus is a new event and nobody has any real understanding what is going on. This is like the transition period of Eastern Europe from 1989 to 1992, when so many "leading experts" came from nowhere and gave the public their speculation with truly disastrous results, causing massive inflation and economic failure in countries who followed their "advice".
Question If you can live for a thousand years, but have to live in a 12x12 foot (3x3 meter) room without ever leaving, would you do it? I prefer to live life to its fullest and accept the risks. Everything in life entails a certain risk.
Forced vaccinations? But Why? read more
Do more people die because of the Corona Virus or because of the lockdown? read more
Is Covid-19 as widespread as suggested? read more
Liberal Governments verses Conservative Governments read more
Career first and family later? read more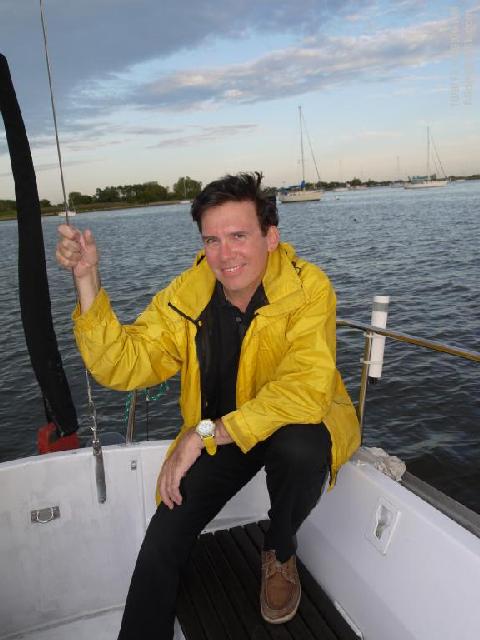 Frank X. Didik aboard "The Futurist", anchored in a New York Harbor.
Thoughts on science, business and society today
By Frank X. Didik - News1.net editor.

What if and what can or might be.

The 1956 Firebird was to be self driving.
Self Driving Cars? If you have an accident with a self driving car, who is at fault? The car manufacturer, the owner of the car or the occupant "driver" of the car? I have enjoyed owning and driving some of the most interesting cars made and have always enjoyed the freedom of driving without impediments or restrictions. Nevertheless, if self driving cars can help reduce accidents and enhance society, I am for them. Besides the technical aspects, there are many other issues that must be worked out. My concerns regarding self driving cars including liability, safety, morality and effectiveness. ...read more ...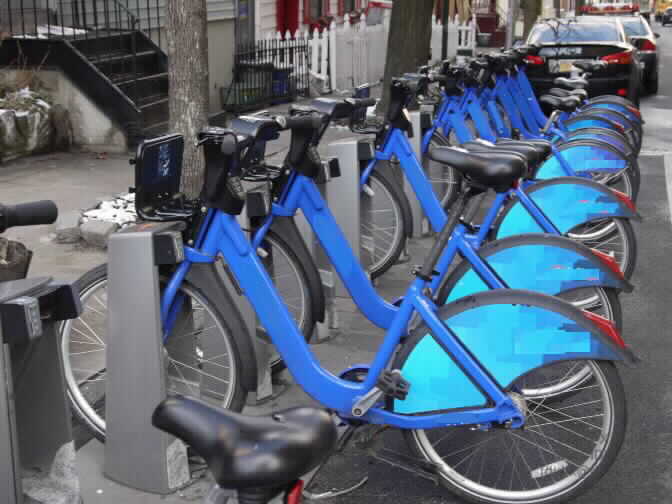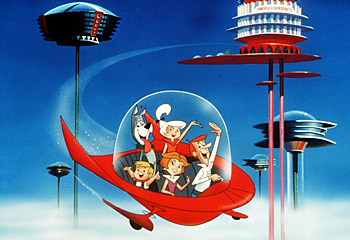 Bicycles? What ever happened to jet packs, flying cars and advanced technology that in the past, was predicted that we would be using by today? Why are bicycles being pushed by cities world wide?...read more ...
Question: If people who are protesting are paid to protest, is it really a protest?
Question: If a humanitarian organization is paid for their services, are they really a humanitarian organization?
Question: If a charity receives most or all of its money from the government, is it really a charity considering that the tax payer is paying for their services?
Cell Phone Etiquette
Advice for the modern person - December 9, 2016 read more
Time to Rethink Bike Lanes
Advice for bicyle based cities
- August 3, 2016 read more
On Education
Rethinking school and our education system
Should everyone attend college or university? ... read more ...
Can a college or a university really teach a person to be a businessman or an artist or good in any particular field? ... read more ...
How come all college undergraduate degree's require four years? Should some degrees require only one year while others perhaps six years? ... read more ...
What courses should and should not be taught at college or university? Can college or a university teach a person how to be a good business person, or how to be creative? ... read more ...
Reason, Logic and intellect is not reliable. The late Christopher Hitchens often stated that we should rely on our logic, reason and intellect to determine the truth. Many people who pride themselves as educated, intelligent and progressive believe the same. As reasonable as this seems, Galileo proved over 400 years ago that our logic, reason and intellect is unreliable and that only direct experimental data, should be relied upon. Galileo had dropped two balls of the same material, but different masses, from the Leaning Tower of Pisa to demonstrate that they would hit the ground at the same time, rather than the heavier ball hitting the ground first, as almost everyone, including Aristotle, 2000 years ago, had assumed. Our logic, reason and intellect is not reliable and should only be viewed as speculation. Only direct experimentation and obtaining the same results, over and over again should be relied upon.
What about? ..
Old Computer Formats and the longevity of our digitally stored knowledge. Are we entering into a "pre-history" era? How can we preserve our computer written records, books, photographs, video and knowledge? We must have an international agreement and an organization, perhaps under auspices of the United Nations, dedicated to preserving our global digital records so that future generations can access the information and knowledge that we store on computer readable formats.
If you wanted to, would you be able to read a:
3 1/2" or 5 1/4" or 8" floppy?
cd-rom or a dvd?
12" optical disk?
9 track tape?
IBM punch card?
Paper punch tape?
If you can not read these one or two generation old formats today, how will society be able to read these documents in 200 years from now? In a few years, our latest computer formats and storage devices, such as USB drives, will also be obsolete. I have deep concerns about the longevity of our knowledge and of computer records, ...read more ...
What if the decay rate of elements varies rather than being a constant? Imagine, if this is the case, it would mean that all archeological dating is in question. How old are artifacts? When in fact did the dinosaurs really die out? Further, consider that ... read more ...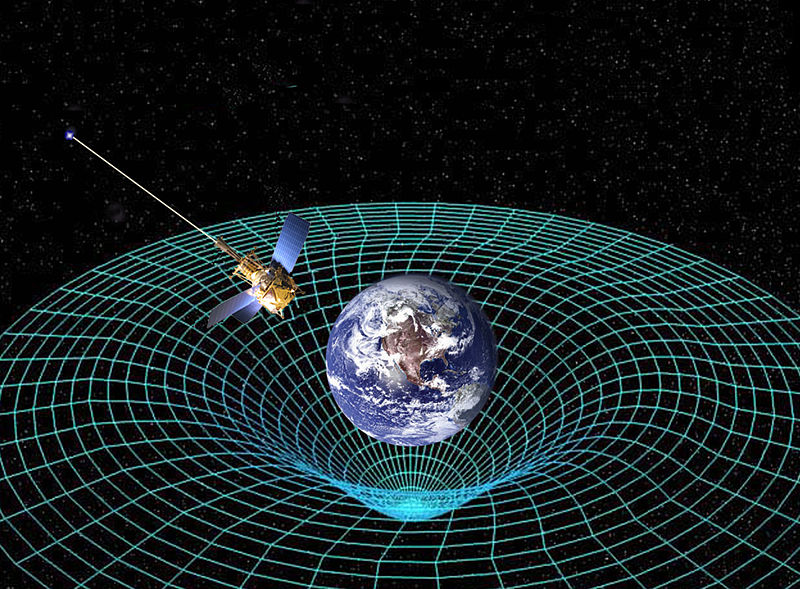 What is the speed of gravity? If it is instantaneous, then what if gravity can be modulated? Today most scientists, assume that the speed of gravity is the same as the speed of light, but what if the speed of gravity is instantaneous? Further, if gravity can be modulated, it might allow for instantaneous universal communication. Thus it might be possible to communicate with space craft instantly, rather than waiting for minutes for transmissions to reach the craft or earth. Perhaps computer chips can be made to operate vastly faster. And this is just the beginning since ...read more ...
On Business
Investing in Startups. Good idea or bad? Is investing in a Startup, that has never proven itself in the market place, a good idea or a waste of money (and talent)? Historically, investors invested in companies that were swamped with orders and making money, but needed additional money to ... read more ...
Most efficient brain-storming method and how to make morning office meetings more productive and interesting ... read more ...
Superior advertising results
Producing the very best and most effective TV commercials The single purpose of a television commercial is to sell the product or service. The fact that an advertisement might be interesting, funny, informative or well produced is secondary to the main purpose, which is to sell the product or service. One should never leave the creation of the television commercial to the television producer or the video editor. ... read more ...
Building the most effective business websites Never let a "web designer" develop the website for you. A web designer should be produce the website under the supervision of an on line marketing master, usually working with ... read more ...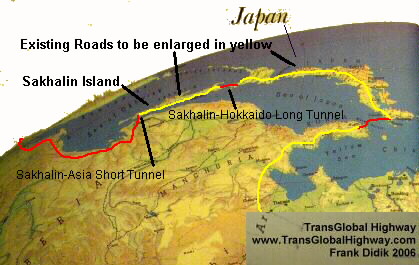 There is an alternative to population control. Restricting and discouraging the formation of families in order to stabilize or reduce population infringes on the freedom and rights of every human. There is another much better approach...read more ...
Questioning the results of modern science. For the last 100 years, we have been experiencing the collapse of real science. Theories, speculation and fantasy is the norm today. By definition, the scientific method is the ability to test and re-test and always get the same results, over and over. If an idea or a theory can not be tested, the idea must be viewed as speculation and not considered true, till that idea is proven without a doubt. Scientific theory has moved to areas that are beyond our present capability of testing and gradually a number of unproven theories have become accepted as fact without any real proof. Further, new theories have been developed based on old theories. Thus we have a situation where science today is largely based on theory upon theory. If something can not be proven, it falls into the realm of philosophy rather than science. This has led to...read more ...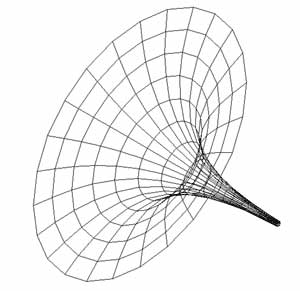 What if time varies along with all things, rather than being a constant? Consider that...read more ...
Can the speed of light vary, even if traveling under the same conditions, or in other words, is the speed of light really a constant? According to Einstein's theory of relativity, the speed of light is a constant but ...read more ...
Science and media hype: Any sudden "revolutionary" scientific discovery, even if such discovery is written about in every newspaper and scientific journal, should be greeted with skepticism. Such a discovery should only be accepted after the bulk of scientists have have had a chance to review the discovery and confirm that it is in fact correct. Such things that come to mind include cold fusion, the so called "God Particle" and even the recent stated discovery of a "gravitational wave". All too often such media hype has come and gone without any real discovery or fundamental change. ..read more ...
What percentage of information, contained in science books is accurate and true? Are we in a post science period? Many science books today present ...read more ...
It is time to retest scientific properties. Verify results. I suggest that the properties of all materials be re-tested using modern technology and certify the results. Melting and boiling points, conductivity, hardness, and all physical properties of materials should be re-tested ...read more ...
Honesty and integrity in scientific research is essential in order to advance our knowledge base. When a scientist has worked for years to prove a particular theory and finds out that their work hasbeen in vain, it is difficult to admit that their original assumptions were wrong. Still it is vitally important ..read more ...