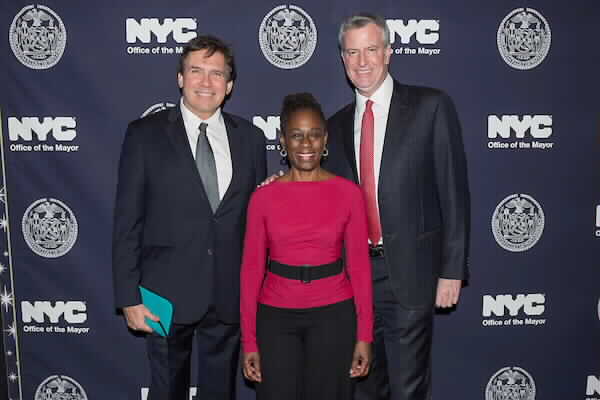 Frank Didik with NYC Mayor Bill DeBlasio and first lady Chirlane McCray, at the mayor's Christmas party in Gracy Mansion.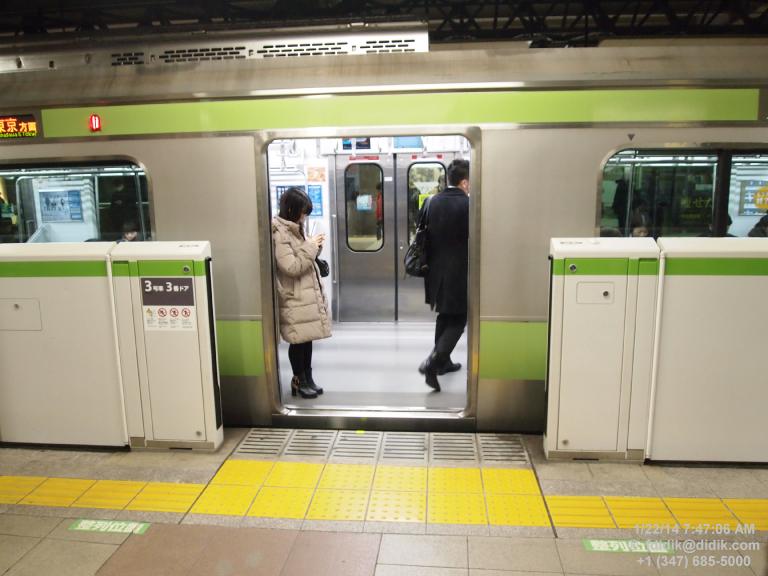 Subway Safety-Subway Gate Every year hundreds of people are killed or severely injured when they fall onto the tracks of trains and subways. The prevention is cost efficient and greatly reduces liability ... read more ...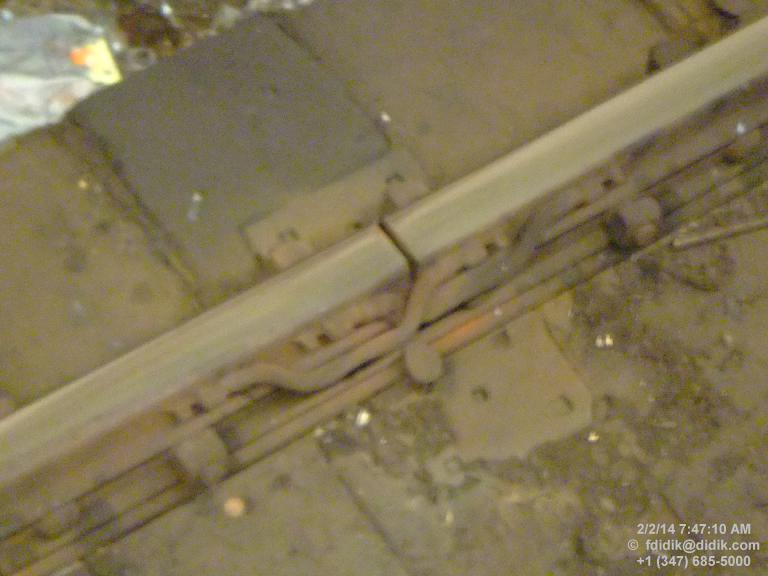 Greatly reduce train noise A significant amount of train noise is caused by the train wheels rolling over the expansion joint of the tracks. This vibration creates noise, vibrations, an less pleasant ride and also reduces the life cycle of the train. The solution is relatively simple and cost effective ... read more ...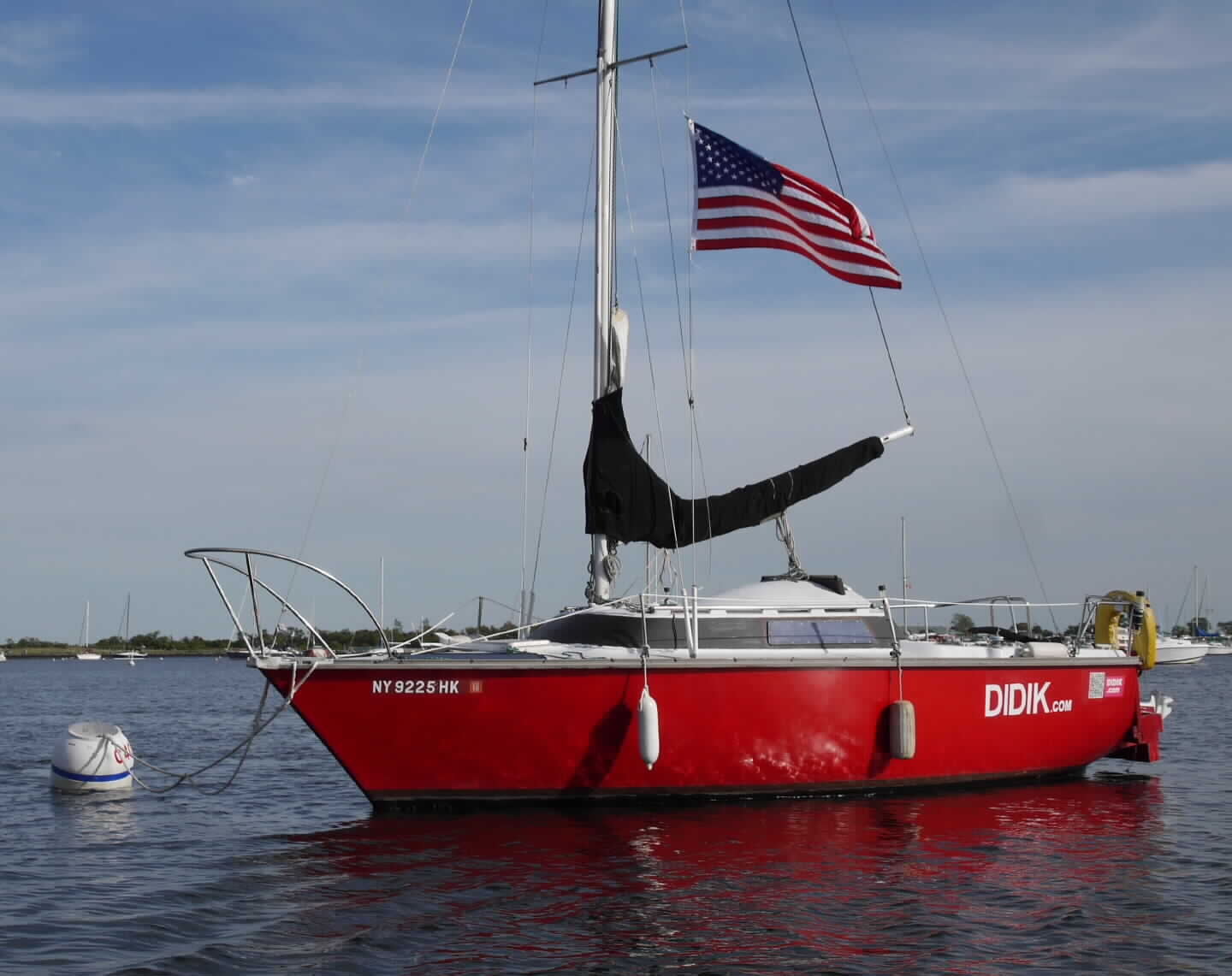 ----
Equal does not mean identical.
----
Our thoughts are not our own. We are influence constantly by TV, the internet, radio, newspapers, magazines, movies, television shows, advertisements, in school and other places. Almost everything we think, do and say, what we eat, wear, how we act and even our goals and moral perspective, is hammered into us so is our thoughts, really our own? We certainly have the capability to think on our own and in fact, we do have a free will to ultimately choose our direction, but nevertheless, our outside influence is massive. When I interact with people, I often hear the same argument parreted over and over again, and often times the people do not realize that they are simply repeating what they had recently heard or read. Often times outside discussions have little new information to offer since it is so repetative or in on such a basic level. Perhaps the person who can think the most for themselves are people who live in isolated areas, with little interaction with others. Centuries ago, hermits and monks withdrew from the world to be surrounded by their thougths. I do not advocate this, but their action is for sure one way of limiting outside influence.
Knowledge obtained from human interaction, reading and learning is essential to move forward, but how does one use this knowledge while at the same time not being overly influenced by others? Human existence and progress is rapid, but still there are obsticles that slow us down.
Is it possible to have truly diverse opinions if everything a person thinks and understands is told to them in school, tv, movies and the rest of the media? On-line chat rooms and "news aggregators" tend to repeat one another, without any truly new information. In many ways, this is causing a dumbing down of society. Perhaps it has always been this way. ---Feb 11, 2019
Where have all the insects and birds gone? Just a few years ago, when I would drive in the country, my windshield would be covered with insects that had hit the car. This simply does not happen anymore. Has the insect population somehow died out? No one seems to talk about this. Has insecticides or plastics or radio transmissions somehow effected them? Further, I have noticed a large drop in the number of birds that we have in the cities as well as in the countryside. It seems that we are headed towards, a silent spring.
Frank Didik's opinion
On Education
Rethinking school and our education system
Should everyone attend college or university? ... read more ...
Wisdom: I believe that wisdom can not be taught, but rather wisdom is a unique gift of understanding that a person is born with.
Can a college or a university really teach a person to be a businessman or an artist or good in any particular field? ... read more ...
How come all college undergraduate degree's require four years? Should some degrees require only one year while others perhaps six years? ... read more ...
Weak Students: I have long believed that in a classroom environment, the weak student holds the better students back. The idea of putting a weak student with better students is a disservice to both the weak as well as the better students. It should also be recognized that not all people have the same ability and potential in every field. Two individuals completing the same university program and having the same grades and degree, does not make them equal in ability and potential. Students should not be told that they can succeed at anything that they try to do.
What courses should and should not be taught at college or university? Can college or a university teach a person how to be a good business person, or how to be creative? ... read more ...
-------------------------------
Teaching: I feel that it is not possible to teach a person to be creative or a good businessman and the same applies to many other fields. You can only expose that person to what has already been done and the current understanding of the tools and materials of the trade and perhaps with this understanding, the student can expand upon this knowledge.
-------------------------------
Learning: My view is that almost all learning is through observation and questioning. This underscores the importance of parents to teach their children and expose their children to the parents daily lives. In today's society, most parents are forced to work and thus the child has only limited exposure to the richness of the parents understanding of things. I would also argue that when a parent is walking with a child, that the parent should not be using their cell phone or texting and instead be devoting their full attention to the child. Schools, as they exist today, have a limited ability to truly train/educate a student and most of what is taught to the student is repeated over and over with little practical use for the student after graduation. So many students today study for years and yet after graduation, never use what they have learned or what they have learned is of little relevance to their lives.
The playgrounds are empty but the dog runs are full. No children, only dogs. I have noticed that in New York City, the playgrounds are empty but the dog runs are full. People are no longer getting married, and having families. Where will this all lead to? When I was a child growing up in NYC, there were children everywhere and the stores catered to families, rather than individual single people. The best boutiques along Madison Avenue on Manhattan's upper east side, always had play areas for the children, so that the children could play, while the mothers shopped. We children knew which stores had the best toys and demanded to go to those stores, which in most cases, were the most expensive stores!
Where have all the twenty something year olds gone?
Strolling down fashionable Fifth Avenue recently, it struck me how the average age of the crowded streets seems older than in the past. I would guess that the average age of the people I saw was around 35 years old. Twenty years ago, the average age would have been probably around 25 years old. Why? I will further guess that the answer is that many people are postponing marriage and having far fewer children. Perhaps the high student debt or perhaps women seeking careers over family or perhaps the hook-up culture is the culprit. Regardless, this does not bode well for the future and increasing family commitments is a must for a healthy society. --- Feb 11, 2019
The aging population is a sad, worldwide industrial nation phenomenon. I am in Tokyo for a few days and have been here many times before. In 2002, I would guess that the average age on the street was about 24 years old. Today, I would guess the average age is about 35 years old. --- Feb 26, 2019
Immigration: Almost all countries consider what perspective immigrants can do for their country and if those immigrants will contribute or be a burden on their society and also evaluate if the potential immigrant will blend in with their existing culture. Perhaps the United States should take the same approach. ---Feb 11, 2019
Life forever? It is interesting that life never really dies in that life continues, uninterrupted with the offspring. Science has never observed life emerging from minerals or non living elements. ---Feb 11, 2019
Investing in Startups. Good idea or bad? Is investing in a Startup, that has never proven itself in the market place, a good idea or a waste of money (and talent)? Historically, investors invested in companies that were swamped with orders and making money, but needed additional money to ... read more ...
Most efficient brain-storming method and how to make morning office meetings more productive and interesting ... read more ...
BITCOIN: Bitcoins are backed by nothing more than the gullibility and wishful thinking of the Bitcoin holder.
I believe that the Bitcoin rise in value is akin to the Dutch Tulip craze in the early 1600's and that a massive decline in value is imminent.
Foreign manufactured products versus American manufactured products: American's will never buy an American made product if the same or similar foreign products is sold at a lower price. This means that manufacturing jobs will never return to the United States, unless there is an import tax, however import taxes will violate most of America's NAFTA and GAT treaties. Any talk of manufacturing jobs returning to America without import taxes is simply idle banter.
The Safety of Plastics. Over the past 30 years, there has been a massive increase in the number of human ailments such as Alzheimer's, breast cancer, prostate cancer, autism, declining fertility, and other ailments. Some people say that the cause is actually better diagnosis, while others blame processed foods, GMO foods, pesticides, wifi, cell phones, vaccinations and other outside influences. During this period, there has been a rapid increase of various plastic packaging for food, water and even clothing made out of polyester and other plastics, with a decline in 100% natural fibers such as cotton and wool. Studies should be conducted regarding the safety of these new materials, as well as the fabric dyes and determine if such chemicals can be absorbed by the skin and if they have any type of long range human effect. -February 14, 2018
Good Citizenship
and respect for our fellow human beings.
Important quotes from my friends from around the world, that I completely agree with and I am sure that most people would as well:
"Do not generalize, but rather individualize." --Daniela D. in Germany, who works for the German diplomatic Chancellery.
"Never get angry with anyone. Who knows, perhaps one day that person will save the world!" --Yuka S., who works for Aoyama University in Tokyo (and Kanagawa).
"It is important to always remember that every person you encounter has their own goals and aspirations, trails and tribulations and deserves equal respect." --Sue Ann M. in Durham, North Carolina.
------------------------------------
"It's all good" ... is wrong. All is not good. There is an absolute right and an absolute wrong and this is not culturally or time dependent. If you see someone going down the wrong path in life, it is essential that you vocalize your concerns and offer to help that individual. I am a moral absolutist and not a moral relativist.
Producing the very best and most effective TV commercials The single purpose of a television commercial is to sell the product or service. The fact that an advertisement might be interesting, funny, informative or well produced is secondary to the main purpose, which is to sell the product or service. One should never leave the creation of the television commercial to the television producer or the video editor. ... read more ...
Building the most effective business websites Never let a "web designer" develop the website for you. A web designer should be produce the website under the supervision of an on line marketing master, usually working with ... read more ...
Twitter
Frank Didik Twitter feed (www.Twitter.com/FrankDidik). I am not a particular fan of Twitter, though I can see that Twitter has had more impact than I first imagined, particularly in areas of politics, fashion and press releases. Frank Didik's archived twitter blog can be found at www.didik.com/FrankDidikBlog.htm