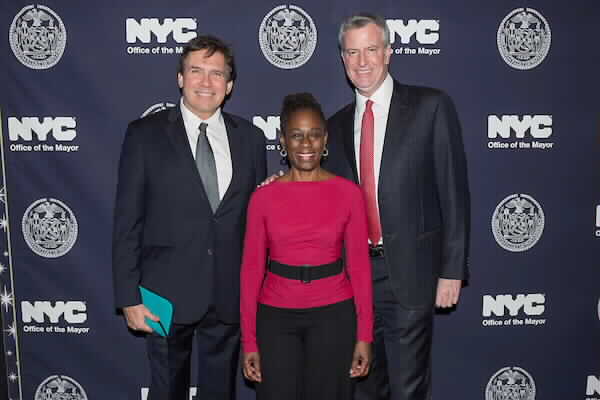 Frank Didik with NYC Mayor Bill DeBlasio and first lady Chirlane McCray, at Gracy Mansion.
Frank Didik thoughts on the Corona Virus and it's effect on society and the economy. Click Here
"Northern Eastern Circle"
A fact finding 1,500 mile road trip through rural north eastern USA. Click here for details.

"Southern Circle"
A fact finding 3,000 mile road trip through the deep south. Click here for details.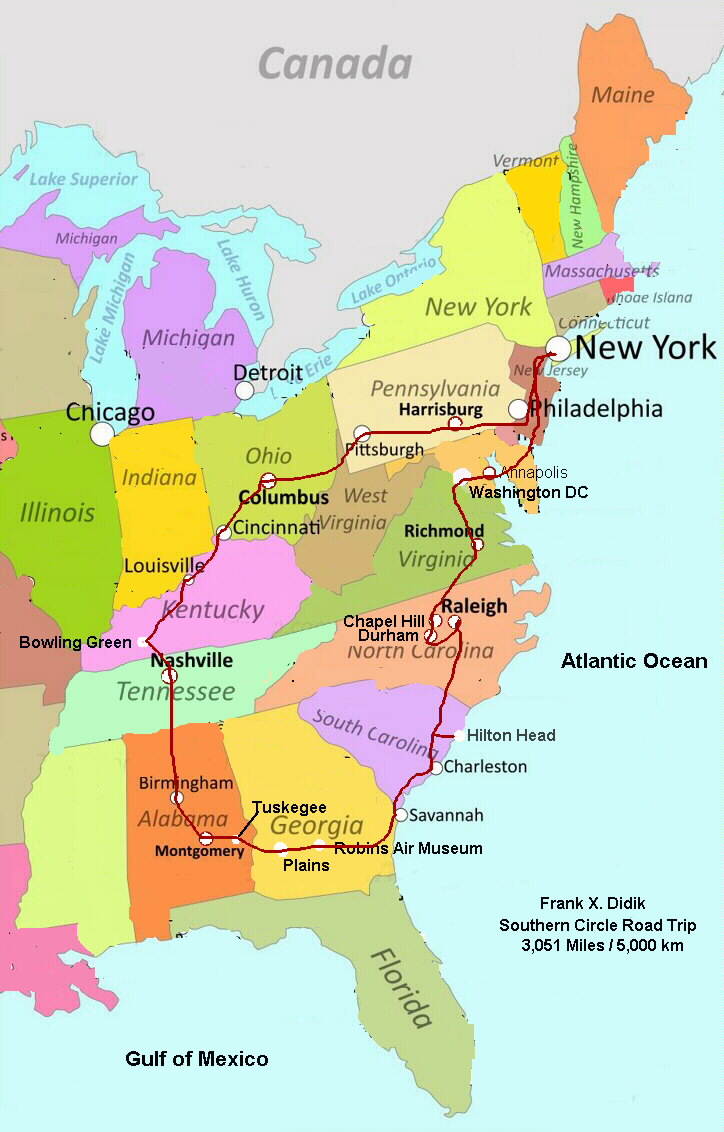 A $40 per hour minimum wage? ...Frank X. Didik, September 22, 2021
In 1962, the average 35 year old working man was able to support a wife, 3 or 4 children, own a house in the suburbs, have 2 cars and had enough money to go on a vacation once or twice a year. Today, it takes two highly educated people working to buy a small one or two bedroom coop or condo, car ownership is rare and they can only afford to have one or two children at best. To achieve what a man in 1962 made per week and to regain the standard of living of that time, the minimum wage must be increased to $40 per hour. The gradual decline over the past 60 years should be changed. Perhaps "shock treatment" that was recommended to the former communist countries in Eastern Europe by "experts" from leading American Universities, should be the guide for this sudden increase in the average (minimum) wage. Several things would happen. First, people would initially spend much more money and this would almost instantly create huge demand. At the same time, it is very possible that prices would go up, though perhaps not as fast as one might expect, since production efficiency is much greater today than in 1962. Finally, it might be necessary to implement trade barriers. This of course would run counter to the direction of globalism. Perhaps it is time to modify the notion of globalism and take into account the different global cultures, work ethics and achievements.
What will happen after September 1, 2021, when added unemployment benefits end, when landlords can demand back rent or evict, when banks can demand back mortgage payments or start eviction proceedings and when governments can demand and act on unpaid back taxes? One can only speculate on what might happen, but I believe that surplus spending will end, that there will be a business and economic slowdown and that real estate sales prices may decrease, considering that unpaid mortgages will again start to be foreclosed upon. On the other hand, businesses will be able to hire more workers, since much of the unemployment benefits will end. Still, we are entering into very unknown economic and social territory.Frank X. Didik, June 15, 2021.
Remote working, office space, the diminished need for employees Frank X. Didik, January 1, 2021 It is fascinating to note that as a result of the government imposed Covid-19 restrictions, that for a period of time, an estimated 30% of the population was out of work, and yet the country did not experience any long term shortages, in any area. One might say that this is a wake-up call for companies to show them that they have too many redundant employees. read more
Does constant mask wearing reduce cognitive ability? Studies have shown that people inhale between 7% and 12% of their exhaled breath, with an accumulation of carbon dioxide. Does this cause minor cognitive loss for the wearer over time? Further, over time, the masks quickly become both moist as well as becomes a breading ground for bacteria. Also, does the additional stress on the lungs to breath through a filter effects the lungs? More studies must be performed to determine if mask wearing causes biological issues as well as psychological issues over time.
Lockdowns benefit large companies at the expense of small stores and businesses Frank X. Didik December 16, 2020
It has become obvious that the lockdowns, imposed by most of the states to control the spread of Covid-19, has clearly benefited large companies, particularly on-line mega-companies, at the expense of small, local businesses, that were forced to either close their doors or greatly curtail their operations. It was estimated that these small companies and stores represented about 60% of the economy. As a result of the government imposed lockdowns, much of this bushiness activity and wealth has been transferred, perhaps permanently, to the on-line stores. This is rapidly creating a vastly different business environment and potentially will reduce the ability of an individual to start their own business in the future.
More Random thoughts and speculaions by Frank X. Didik can be found here
Massive surpluses in society Industry has produced massive surpluses Since the start of the Industrial Revolution, 230 years ago, society has gradually managed to ever increase productivity and surpluses. Today, these surpluses are so great that I estimate that only 20% of the population can support themselves and the rest of the population. This assumption was proven essentially correct with the Covid/Corona lockdowns when it was estimated that over 50% of the population was not working and yet society did not experience any shortages in any area. Further, with the robotic and artificial intelligence revolution just around the corner, even greater surpluses will be achieved and even less workers/employees will be needed. This leads to the question of how to deal with the vast number of people who's work will no longer be needed? If the present monetary system continues, perhaps a basic, livable income will necessary, though in general, I am not in favor of the idea, since I have always felt that everyone should be required to carry their own weight in society and further, give back to society. There are some who feel that the population should be reduced by discouraging the formation of families, encouraging single life, birth control, abortion, same sex unions encouraging latter age marriage and other methods. Most non-retail businesses can easily survive with less than 50% of their work force.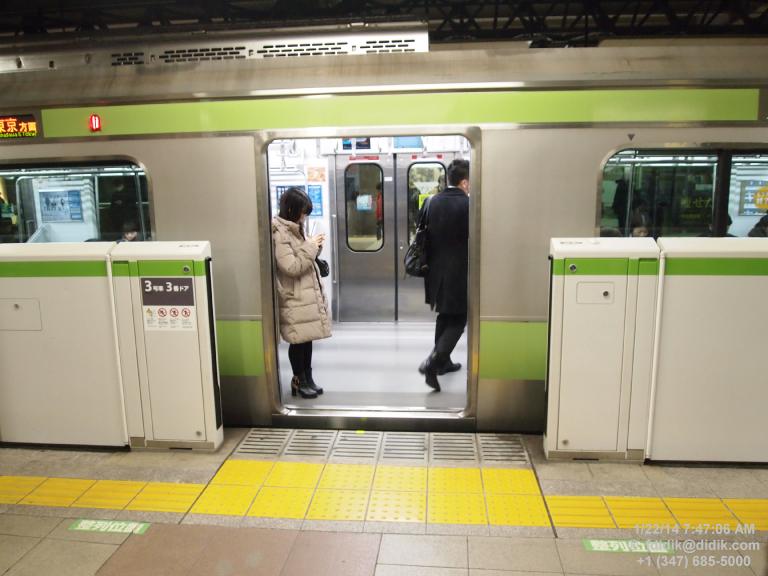 Subway Safety-Subway Gate Every year hundreds of people are killed or severely injured when they fall onto the tracks of trains and subways. The prevention is cost efficient and greatly reduces liability ... read more ...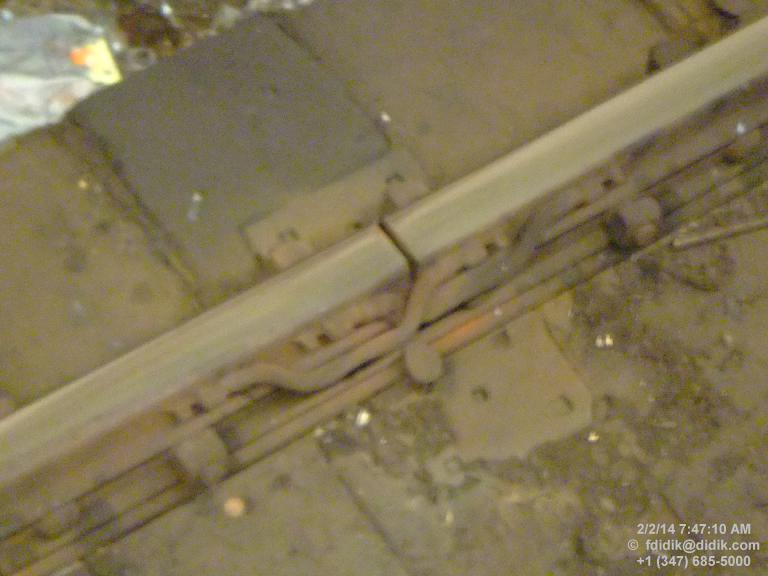 Greatly reduce train noise A significant amount of train noise is caused by the train wheels rolling over the expansion joint of the tracks. This vibration creates noise, vibrations, an less pleasant ride and also reduces the life cycle of the train. The solution is relatively simple and cost effective ... read more ...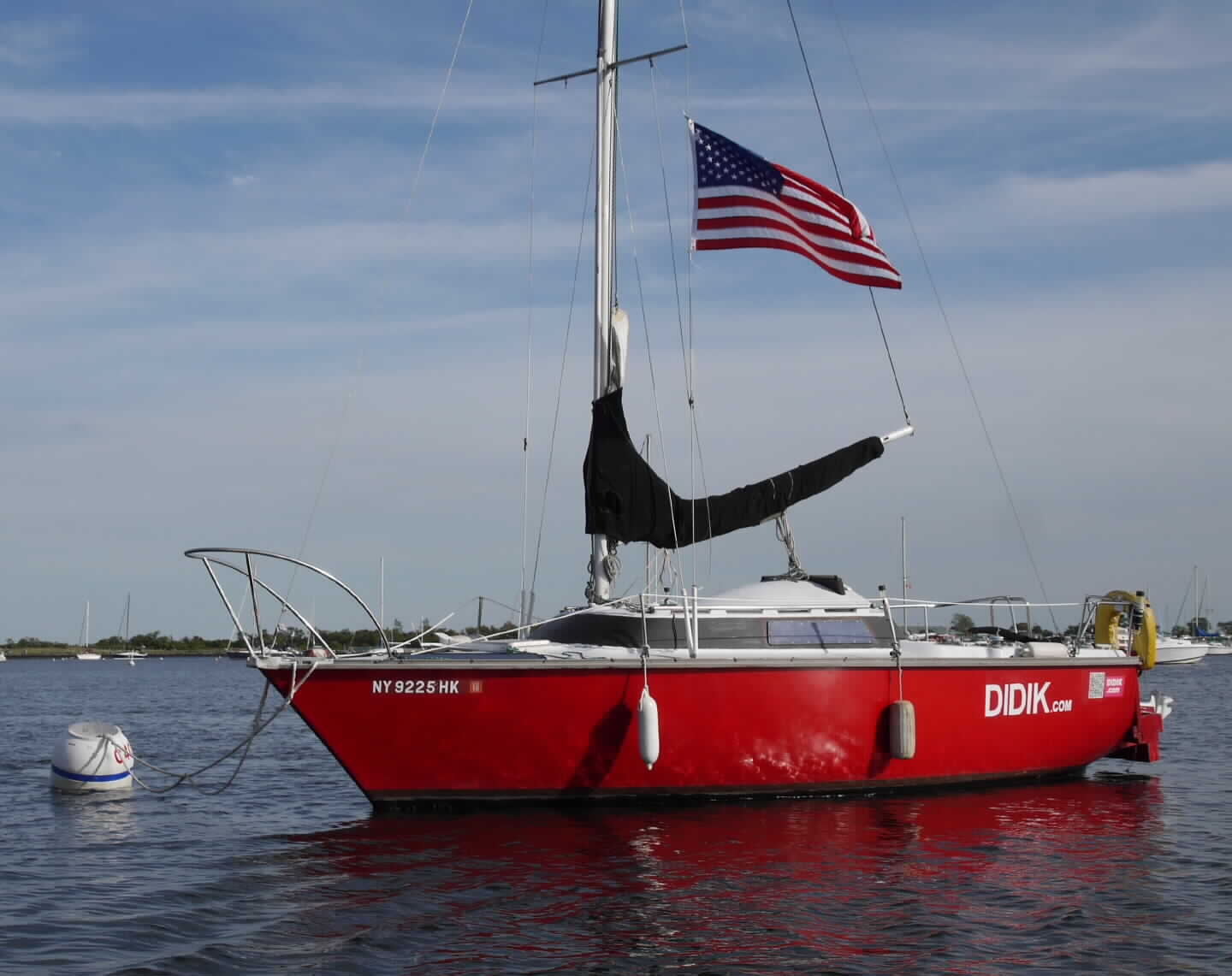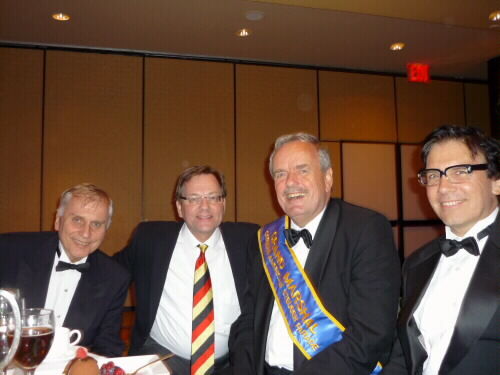 From the right, Frank Didik, Dr. Eric Bitterman, Chairman of Deutsche Welle, Dr. Joachim Reppmann, and publisher Walter at the Von Steuben formal event in New York City. Though Frank Didik does not have any German background, he enjoys the inginuety and drive of the German people.
Where have all the insects and birds gone? Just a few years ago, when I would drive in the country, my windshield would be covered with insects that had hit the car. This simply does not happen anymore. Has the insect population somehow died out? No one seems to talk about this. Has insecticides or plastics or radio transmissions somehow effected them? Further, I have noticed a large drop in the number of birds that we have in the cities as well as in the countryside. It seems that we are headed towards, a silent spring.
Frank Didik's opinion
On Education
Rethinking school and our education system
Should everyone attend college or university? ... read more ...
Wisdom: I believe that wisdom can not be taught, but rather wisdom is a unique gift of understanding that a person is born with.
Can a college or a university really teach a person to be a businessman or an artist or good in any particular field? ... read more ...
How come all college undergraduate degree's require four years? Should some degrees require only one year while others perhaps six years? ... read more ...
Weak Students: I have long believed that in a classroom environment, the weak student holds the better students back. The idea of putting a weak student with better students is a disservice to both the weak as well as the better students. It should also be recognized that not all people have the same ability and potential in every field. Two individuals completing the same university program and having the same grades and degree, does not make them equal in ability and potential. Students should not be told that they can succeed at anything that they try to do.
What courses should and should not be taught at college or university? Can college or a university teach a person how to be a good business person, or how to be creative? ... read more ...
Teaching: I feel that it is not possible to teach a person to be creative or a good businessman and the same applies to many other fields. You can only expose that person to what has already been done and the current understanding of the tools and materials of the trade and perhaps with this understanding, the student can expand upon this knowledge.
Learning: My view is that almost all learning is through observation and questioning. This underscores the importance of parents to teach their children and expose their children to the parents daily lives. In today's society, most parents are forced to work and thus the child has only limited exposure to the richness of the parents understanding of things. I would also argue that when a parent is walking with a child, that the parent should not be using their cell phone or texting and instead be devoting their full attention to the child. Schools, as they exist today, have a limited ability to truly train/educate a student and most of what is taught to the student is repeated over and over with little practical use for the student after graduation. So many students today study for years and yet after graduation, never use what they have learned or what they have learned is of little relevance to their lives.
The playgrounds are empty but the dog runs are full. No children, only dogs. I have noticed that in New York City, the playgrounds are empty but the dog runs are full. People are no longer getting married, and having families. Where will this all lead to? When I was a child growing up in NYC, there were children everywhere and the stores catered to families, rather than individual single people. The best boutiques along Madison Avenue on Manhattan's upper east side, always had play areas for the children, so that the children could play, while the mothers shopped. We children knew which stores had the best toys and demanded to go to those stores, which in most cases, were the most expensive stores!
Where have all the twenty something year olds gone?
Strolling down fashionable Fifth Avenue recently, it struck me how the average age of the crowded streets seems older than in the past. I would guess that the average age of the people I saw was around 35 years old. Twenty years ago, the average age would have been probably around 25 years old. Why? I will further guess that the answer is that many people are postponing marriage and having far fewer children. Perhaps the high student debt or perhaps women seeking careers over family or perhaps the hook-up culture is the culprit. Regardless, this does not bode well for the future and increasing family commitments is a must for a healthy society. --- Feb 11, 2019
The aging population is a sad, worldwide industrial nation phenomenon. I am in Tokyo for a few days and have been here many times before. In 2002, I would guess that the average age on the street was about 24 years old. Today, I would guess the average age is about 35 years old. --- Feb 26, 2019
Immigration: Almost all countries consider what perspective immigrants can do for their country and if those immigrants will contribute or be a burden on their society and also evaluate if the potential immigrant will blend in with their existing culture. Perhaps the United States should take the same approach. ---Feb 11, 2019
Life forever? It is interesting that life never really dies in that life continues, uninterrupted with the offspring. Science has never observed life emerging from minerals or non living elements. ---Feb 11, 2019
Investing in Startups. Good idea or bad? Is investing in a Startup, that has never proven itself in the market place, a good idea or a waste of money (and talent)? Historically, investors invested in companies that were swamped with orders and making money, but needed additional money to ... read more ...
Most efficient brain-storming method and how to make morning office meetings more productive and interesting ... read more ...
Good Citizenship
and respect for our fellow human beings.
Important quotes from my friends from around the world, that I completely agree with and I am sure that most people would as well:
"Do not generalize, but rather individualize." --Daniela D. in Germany, who works for the German diplomatic Chancellery.
"Never get angry with anyone. Who knows, perhaps one day that person will save the world!" --Yuka S., who works for Aoyama University in Tokyo (and Kanagawa).
"It is important to always remember that every person you encounter has their own goals and aspirations, trails and tribulations and deserves equal respect." --Sue Ann M. in Durham, North Carolina.
------------------------------------
"It's all good" ... is wrong. All is not good. There is an absolute right and an absolute wrong and this is not culturally or time dependent. If you see someone going down the wrong path in life, it is essential that you vocalize your concerns and offer to help that individual. I am a moral absolutist and not a moral relativist.
Producing the very best and most effective TV commercials The single purpose of a television commercial is to sell the product or service. The fact that an advertisement might be interesting, funny, informative or well produced is secondary to the main purpose, which is to sell the product or service. One should never leave the creation of the television commercial to the television producer or the video editor. ... read more ...
Building the most effective business websites Never let a "web designer" develop the website for you. A web designer should be produce the website under the supervision of an on line marketing master, usually working with ... read more