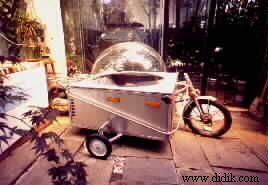 DIDIK Shooting Star. Please see below for other photographs of the vehicle.
DIDIK SHOOTING STAR (tm) The uniquely designed and specially engineered Didik Shooting Star, with its 360 degree clear high impact cockpit resembles a cross between a Flash Gorden rocket ship and the first manmade satellite, the Russian "Sputnik". The vehicle was designed with three things in mind, low center of gravity for superior handling, an extremely quiet interior and a functional as well as unique design. At first glance, the vehicle may appear to have unnecessary ornamentation. The fact is that every every designed element serves an important technical function. For example, the chromed side bars are in fact side impact bumpers. The six rear chromed "jet engine bars" serve as both bumper/crush zones as well as housings for the 6 miniature reflectors. The polished aluminum body is designed to increase safety by increasing its visibility to other drivers. The vehicle is constructed of welded thin walled steel tubing, and is sheathed in aircraft quality aluminum skin for maximum strength. The vehicle has four wheels, however, unlike a conventional automobile, the Didik Shooting Star has one wheel in the front, one wheel in the back and two wheels in the center. The handling can only be described as breathtaking...superior to virtually all conventional automobiles. The vehicle is propelled by both an electric motor and an emergency gasoline engine. Under New York State law, the vehicle is classified as a motorcycle.
DIDIK Shooting Star under construction.
.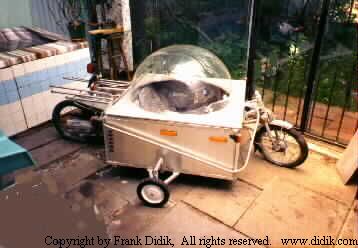 DIDIK Shooting Star
The DIDIK Shooting Star is a concept vehicle not intended for regular production. Nevertheless, it incorporates many interesting technologies and safety features. Should this vehicle be put into production, it is estimated that it could be produced for as low as $4500. For additional information, kindly contact us via e-mail.
The Didik Shooting Star was designed and constructed by Frank Didik who has built a large number of solar, electric, human and hybrid powered vehicles, aircraft and racing vehicles. If you represent a manufacturing enterprise or a transportation authority, you are invited to contact us to discuss your particular need and we will do our best to provide you with a fresh new innovative look at your existing and proposed project. All communications are deemed confidential to the degree that the internet provides. RFP's are welcome and given quick, thoughtful attention.