DIDIK.com
3D HOW TO VIEW DIDIK STEREO PAIRS

DIDIK Stereo photographs provide the most realistic, true to life images possible. Once you understand and train yourself to view the images, you will be amazed how lifelike they look. DIDIK Stereo pairs (two, pictures, side by side, in one photograph) can be viewed by holding a dark piece of paper or cardboard, about 8" (21cm) long between the two images and then looking down the paper at each photograph with your left eye looking at the left photograph and your right eye looking at the right photograph. It is advisable to stare straight ahead when viewing the photographs. When you first look at the photographs, you should see two overlapping images. You must now try to merge the two images together with your eyes. After a little practice, you will train your eyes to quickly be able to merge the two images together. These images can also be provided in anaglyph (red-blue lens) form for your publication.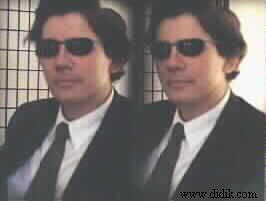 Stereo Pair
(Please note that a stereo pair is not the same as a lenticular image)
Other notes: When viewing, the two photographs should be evenly lit. Be careful not to cast a shadow on one of the photographs with the dark paper or cardboard that you hold between the photographs. DIDIK Stereo pairs can also be made into lenticular images, similar to the stereo (3-D) postcards of the 1960's and 1970's. With proper equipment, stereo pairs can be projected on the wall and many people can view the stereo images at the same time, provided that each person is wearing special polaroid glasses.
Happy Stereo Viewing!
Guide Book To Lenticular

Vari-Vue™ Museum Archive

3-D for toys, games and cards

Questions and Answers

Lenticular Billboards

Hyper Stereo Technology